Internship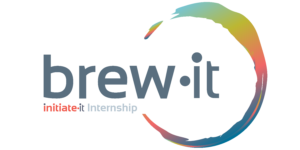 In the immortal words of Ron Snow (Jon Snow's step-brother,) "SUMMER IS COMING." Winter is in the rearview, and as the warm weather creeps up on us, so does the scary prospect of figuring out what you'll be doing this summer.
Yes, you could go the route of taking a job at your dad's college-roommate's insurance company and bustle around to fetch coffee for him and his self-important cohorts… Or you can look a bit harder. You can find a program that is fulfilling, designed to benefit you and your career goals, and created specifically with you in mind. That's what we can offer at brew-it, the Summer Internship Program at initiate-it.
No, "brewing" has nothing to do with craft beers or making coffee. Instead it references what we stand for here at initiate-it: Bringing like-minded creatives, professionals, and clients together, mixing them all up, and creating something intimate and impactful. We are a full-service marketing and advertising agency located in the heart of Shockoe Bottom and aim to assist our clients in a variety of ways. Our offerings include (but are not limited to); strategic planning, media buying, creative design, ad placement, copywriting, brand analysis, and database marketing.
As a small company, we value the energy and passion that each member of our team brings to the table and are hoping to extend that appreciation and respect to talented and engaged interns, this summer. 2018 will be our third year running this program and we are very excited to see how we can build on the great internships we have run over the past two summers.
If you are looking to work with a team, where you will be given a chance to perform work that matters, achieve real-world experience, understand the team dynamic of working in a small, but growing company, gain mentorship from experts in the marketing field, while maintaining autonomy to do what you feel will assist your learning the best, then brew-it is a program for you to consider.
The interns selected to join our team will be responsible for working directly with a real business prospect for 10 weeks and tasked with demonstrating a level of value and professionalism that will achieve a long-term relationship with the client.
In addition to this real-world client work, each intern will be given the opportunity to fill the role of an initiate-it team member and as such, will have an opportunity to learn how to:
Write Whitepapers




Develop Case Studies




Perform Brand Studies




Strategize Digital Marketing




Design an Advertising Infographic

Run Social Media Campaigns




Produce Organic and Native Content




Perform Competitive Research




Direct and Develop a Live Web Series




Attract and Engage with an Industry Mentor
If any of the above interests you, and you want to leverage your summer months to the fullest, please consider applying to join our team. We would love to have you. For more information on our company, our team, or the clients we work with, click around our site and check out our most recent posts.
To apply, all you need to do is e-mail a copy of your resume to Tom Hinkes, at thinkes@initiate-it.com, along with with a response to one of the four prompts listed below. Limit your entry to 500 words or less.
If you're feeling adventurous, show us how savvy and creative you are, by recording a brief video response, instead of a traditional written  paragraph.
1. Vin Diesel is the greatest actor in American cinematic history. His range is extremely versatile. From Xander Cage in XxX to Dom Tourreto in the Fast and Furious, he displays more personality and emotion than a sea-dwelling barnacle. It is our personal opinion, and likely shared by Vin's mother, that Mr. Diesel should play every role in every movie. It may be difficult, but identify and consider a role that Vin Disesel did not act in, and explain why the actor (or actress) who did star in the film, was a better choice. It's harder than you think…
2. One of the most common obstacles that small agencies run into, is the struggle to balance multiple clients' priorities, while still maintaining effective management of internal operations. With this in mind, describe what you would do if you had to make the difficult decision of determining if Taco Bell's new nacho cheese fries are more delicious than a cat riding a Roomba in a shark costume, is cool.
3. Fully-convince us of something that we don't currently believe is true.
4. Yankees' All-Time Great, Yogi Berra, was more than a phenomenal catcher, he also gave the world a seemingly-endless supply of amazing quotes. Some; "It ain't over till it's over," make more sense than others; "In theory, there is no difference between theory and practice. In practice, there is." If nothing else, Yogi's quotes show us that words can have a powerful effect. In one sentence, state why you deserve to be selected for this internship. Then spend the rest of your 500 words or video response, proving it.
Timeline
Monday – Thursday, 10:00AM – 4:00PM – That's right, kiddos; no work on Fridays!
10 weeks spanning from May 29

th

 to August 11th 
 Qualifications/Mandatories
Based in Richmond for Summer of 2018 – No relocation available
Open to current Juniors, Seniors, and May 2018 graduates
Willingness to learn
Fearfullness to try something new
Enjoys working in a fast-paced team environment
Ability to brag to your best friend Janet about how much cooler your internship is than her's
Compensation
You will be awarded with mentorship, lifelong memories, laughs, and a $1,000 stipend
Application Deadline: May 1st 
Interviews: Scheduled upon completion of application
Decision Date: Will be informed promptly after interview