Obvious Product Placement in Movies and Television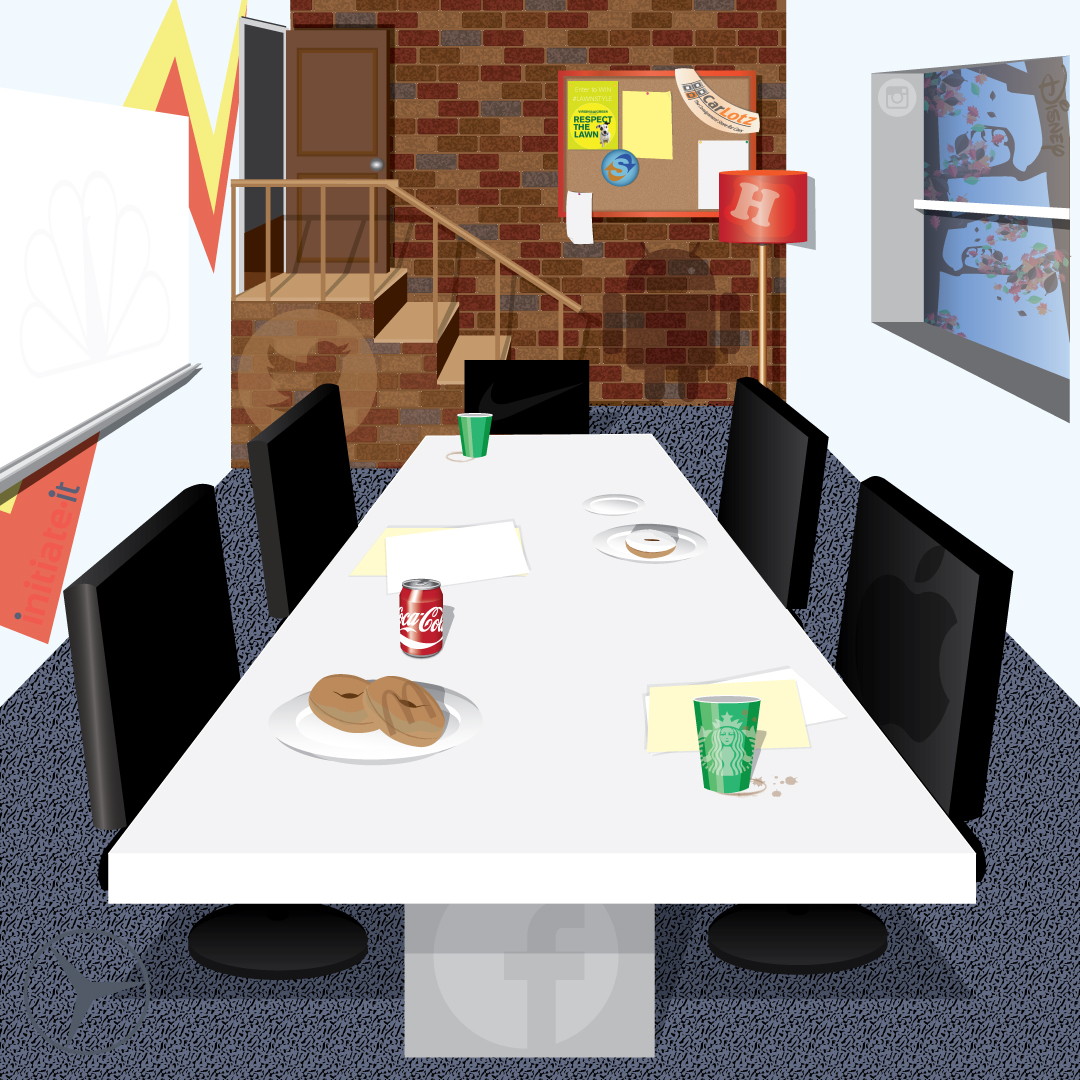 Can you spot the 17 products placed in the image above? Today, product placement can be seen in many television shows and movies. There should be a seamless transition between the ad and program.  Viewers will notice the advertisement on a subconscious level, such as a character drinking a Diet Coke or eating Taco Bell. However, for many shows, this is not the case. When executed poorly, viewers immediately notice the product. It appears as a commercial rather than a subtle advertisement. The following are our favorite obvious cases of product placement.
The Internship – Google Product Placement
I couldn't think of another movie that has as much product placement as The Internship. When I say this is my vote for "the worst" example of product placement, I mean that it's the most I've seen reference to a brand name in a movie. Even the colors represented throughout the movie are all Google colors, such as Google's "Nooglers" hats that the cast wears. What's more interesting, is how much the campus, buildings, and experience that is portrayed in the movie was created to look and feel like Google, even though the movie wasn't actually filmed at the Google campus.
Sarah Prokopchak, Account Executive
Shark Tank – T-Mobile & America's Got Talent – Dunkin' Donuts Product Placement
Reality Shows are notorious for blatant product placement. As they are typically sponsored by large brands, reality shows are handcuffed to product placement to keep their funding. Two cringe worthy examples: Shark-Tank (and it's love for T-Mobile) and America's Got Talent (and it's Dunkin' Donuts VIP Lounge). These two shows revolve around giving once in a lifetime chances to regular people. It is inspiring and uplifting to see regular joes get through to the "next round." So, when a shark shifts the conversation from a contestant's inspiring invention to his T-Mobile phone and how awesome its camera is, the viewing experience is annoyingly interrupted. After a miraculous performance on the America's Got Talent stage, contestants head to the Dunkin' Donuts Lounge for post-production interviews. Nothing like getting overshadowed by a well-known coffee/donut brand after the most important 3 minutes of your life. These moments of product placement are too obvious and seem selfish because of the environments. Subtlety is crucial in product placement while these brands appear attention hungry and egocentric.
Libby Rosebro, Digital Designer
Skyfall – Heineken Product Placement
One of the most iconic refrains in the James Bond movie franchise happens while he's perched atop a barstool. In a sultry but forceful tone, our secret agent hero orders a martini – shaken, not stirred. This was such a unique choice of a drink for a powerful, yet sophisticated hero. The oddity of his order became a fan favorite and viewers would look for it in each new installation. So when James Bond swapped his signature martini for a pint of Heineken in Skyfall, in 2012 it caused discourse amongst the fan base. While Bond actor, Daniel Craig insists that the film could not have been made without the deal, this utilization of product placement certainly feels forced and out of place. While memorable, it does not instill a feeling of goodwill in myself or a lot of other followers of the franchise.
Tom Hinkes, Digital Account Executive
90210 – Rimmel London Product Placement

For those who don't know, The CW created a spin-off of the 90s hit tv show Beverly Hills, 90210. To say the product placement featured on the spin-off series is bad would be an understatement. Throughout its 5 seasons, 90210 characters consistently make obvious mention of known brands. In the above clip, the characters even go as far as to hint at Rimmel London's tagline. Other products featured on the show included Dr. Pepper and State Farm. My personal favorite is its advertisement for the Microsoft Surface. In the show's final season, 90210 provided each character with their own Surface tablet. These tablets were then included in many of the characters' storylines.

Alyssa Drewicz, Social Media Coordinator

Did you notice the products in the title image above? Let us know if you can find all 17 in the comments below!

Tagged with: advertising, advertising agency, advertisment, brand awareness, brand culture, commercials, content marketing, creative, creativity, culture, customer loyalty, digital, marketing, marketing agency, movies, product placement, television shows, trending, video


---