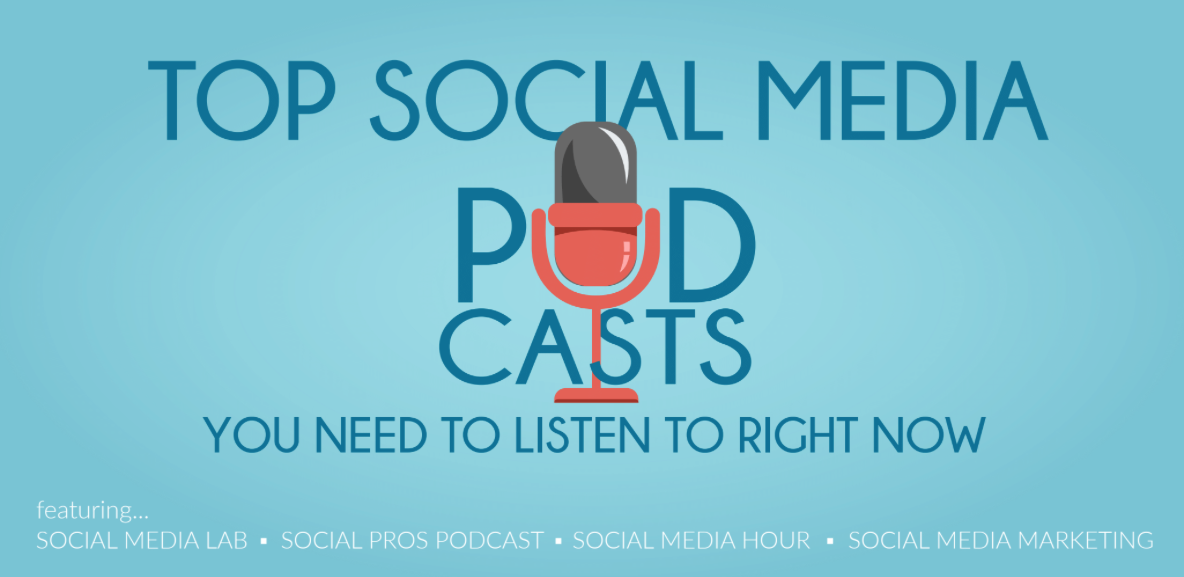 Who doesn't love good, spirited conversation about fascinating topics? Let me go ahead and answer that for you: no one. Lucky for you, we live in a time where thousands of hours of great content is readily available at your fingertips.
Podcasts are a long-form style of content wherein usually one to five people discuss various topics at hand.
At initiate-it, we pride ourselves on our savvy social media strategy. But what's the point in keeping all of the fun to ourselves? Among the dozens of social media-focused podcasts, I've selected the ones I think any social media marketer will find most valuable in expanding your knowledge and optimizing your social media strategy.
Social Pros Podcast
Hosts Jay Brown and Adam Baer run this forty to fifty-minute podcast. Each episode is focused on discussing current trends in the social media world with a featured social media strategist.
This podcast isn't necessarily a social media marketing podcast, per se. Instead, it's more of a discussion on inner-workings and best practices across all social channels. This type of information is highly valuable, especially to those who wish to optimize their strategy to account for social trends.
A staple of this podcast is the "Big Two." At the end of each episode, the guest asks two rapid-fire questions for the hosts to then discuss. The Social Pros Podcast is a great place to start your journey into social media podcasts.
Listen here: Social Pros Podcast
Social Media Marketing Podcast
This podcast is a favorite among people who actively listen to media-based podcasts – perhaps the most recognizable on the list. From Facebook to Snapchat and YouTube to Pinterest, this podcast delivers specific tips and opportunities to help your business succeed via social media.
Host Michael Stelzner leads this forty to fifty-minute podcast discussing examples of real-world success stories and derives strategies from them. It's a step-by-step analysis of the best social media marketing practices and is not to be missed.
Listen here: Social Media Marketing Podcast
Social Media Lab
This is my personal favorite on the list. Do hashtags really work? How many are necessary? Do negative comments affect post-performance? Is 280 characters really a good idea for Twitter? If you've ever asked yourself the questions above, The Social Media Lab could be for you.
The Social Media Lab Podcast is hosted by Scott Ayres. Throughout each episode, he tests social media fundamentals, so you don't have to. The testing experiment is laid out in simple and easy-to-understand terms and concludes with the reported results. From those results, the host recommends a course of action to help you optimize your social media practices. This six to twelve-minute podcast is an easy and fun listen that I highly recommend.
Casual Fridays Podcast
Last but not least, the Casual Fridays Podcast. Host Tyler Anderson is a social media entrepreneur who talks through content marketing strategies for a wide range of social channels. He discusses not only just the "big four" (Facebook, Twitter, Instagram, and LinkedIn) but more specialized channels as well, such as Meerkat, Periscope, Google+, Blab, Pinterest, and more.
As the name suggests, each episode is about an hour long but goes by quickly due to the host's intriguing topics, fun personality, and expertise on the topic at hand.
Listen here: Casual Fridays Podcast
With these four podcasts, you can expand your knowledge of content marketing and optimize your social media strategy. Have you listened to any of the above podcasts? If so, share your thoughts and what you learned! If not, tell us which one you're excited to listen to!
Posted by Ben Cardwell, Junior Digital Analyst at initiate-it, a digital-first, full-service agency located in Richmond, VA.