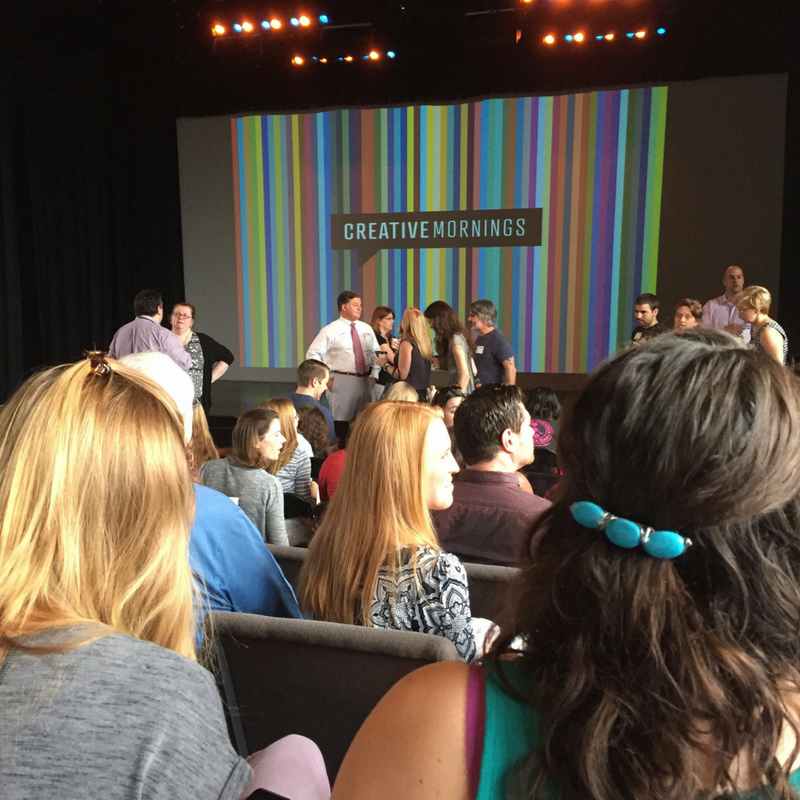 Creative Mornings is a lecture series dedicated to creative people, places, and things. It pops up around Richmond once a month and all are welcome to come network, listen and participate. Disclosure: I have attended only 1 Creative Mornings RVA but I'm already hooked.
1. Food!!
Free donuts and coffee. Cheers to you, Ground Up Coffee and Sugar Shack Donuts! They sponsored and provided refreshments for last Friday's event (6/16). You know how to make a girl glad that she woke up early on a Friday! There are complimentary goodies at every Creative Morning event. Wake up- It's go-time!
2. World Class Speakers: Survival with Peter Fraser
Peter Fraser is a local designer and VCU professor. He spoke on the theme of Survival (June 16, 2017). Reaching beyond the comfortable bubble of his designer knowledge, Peter talked about human's need to not only survive, but prosper. We cannot just eat, kill, sleep, mate and repeat. We, as humans not just animals, need more than that. Peter was able to connect to us, the audience, by touching on his experiences growing up. There was a house fire; he found love; he started a family; he lost his parents; he found his passion to be active; he found a way to give back. Fraser's message about prosperity wrapped up simply: Find what makes you whole and be that.
3. What a Network!
Creative Mornings is a room full of interesting people who are there to learn, listen and meet people. The meeting starts with hugs and high fives to anyone sitting near you. I met 3 people as I walked in the building. I made connections with two people in the parking lot afterward! One bit of advice: it can be overwhelming to walk into a room of incredibly talented and seemingly confident people. Just introduce yourself to someone. You'll be pleasantly surprised.
4. World's Largest Guess Who Game
My favorite board game as a child was Guess Who. Are they wearing glasses? Do they have blonde hair? You never knew!
At the end of the event, a changing of the guard went into effect for Creative Mornings RVA. Rather than just announce it (ugh, how boring!) The entire room played a massive game of Guess Who to see who was tapped as the new Host for CM RVA (Congratulations, Jolinda Smithson!). Even something as simple as a guessing game can get those creative juices flowing.
5. Think Local
The speakers are Richmond people. Whether they are designers, artists, entrepreneurs or fitness gurus- they are your neighbors and they have incredible stories to tell. You can learn about local business, events, opportunities, and more. Richmond may be a small corner of the world, but these people are breaking down the walls every day.
Bonus: Cool Locations
Have you been to Dogtown Dance Theatre? Go, it's an incredible structure. Plus, we were surprised with a remarkable dance performance before Peter took the stage that blew the entire room away. Other Creative Morning RVA squatting places: The Hofheimer Building, Virginia Repertory Theatre's November Theatre, Art Works, the Frontier Project… The list goes on…
Creative Mornings comes back in July. Be on the lookout for tickets here!
Posted by Libby Rosebro, Creative/Design Intern at initiate-it, a digital first, full-service agency located in Richmond, VA.