Creative Outdoor Brand Advertisements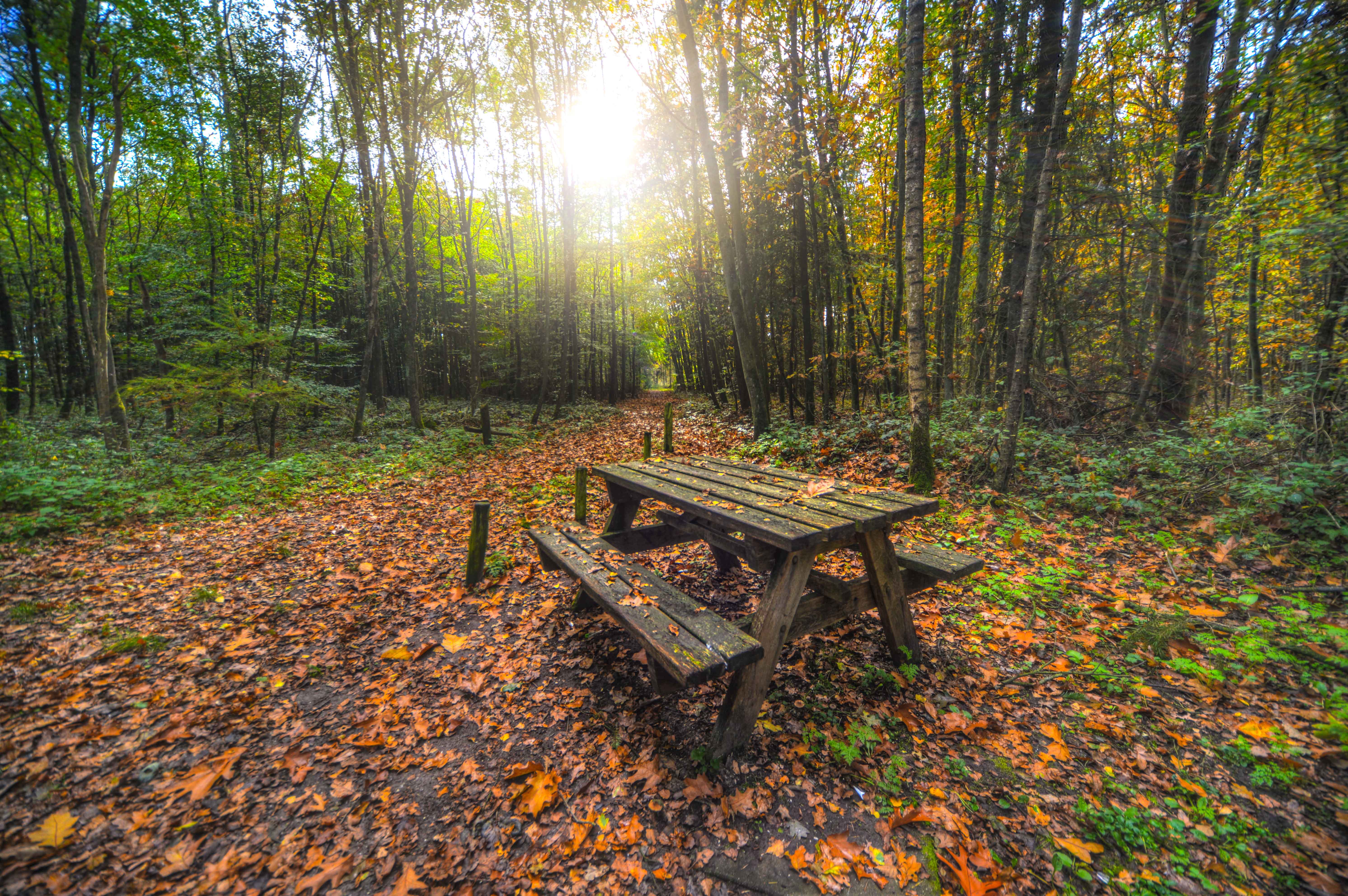 When it comes to an outdoor brand, like Patagonia or L.L. Bean, there are a lot of creative options for advertising their products. Starting out with traditional outdoor advertising, outdoor brands can put a creative spin on billboards to stand out on the road.
Creative Billboards
One example of a non-traditional billboard is pictured below. Emulating a snowboard halfpipe, the company Mammoth Mountain literally thought outside the box and suspended an artificial snowboarder 5 to 10 feet above their billboard. Not only does having a snowboarder suspended like that play into their "Play Big" campaign, but it clearly stands out from the hundreds of other billboards one might come across on the road.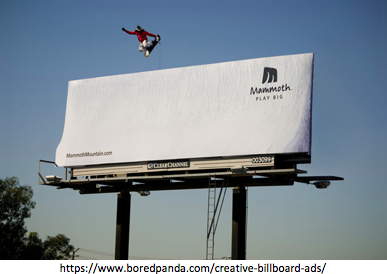 A second example of this non-traditional outdoor advertising for an outdoor brand is pictured below. Woodland, a company that sells hiking and climbing shoes, also thought outside the box. They planted a massive climbing/hiking shoe right on top of their billboard, leaving the shoe lace dangling in front with knots in it, just like a climbing rope. In this case, the billboard not only stood out from the crowd, but it clearly showcased the company's product and the purpose of those products.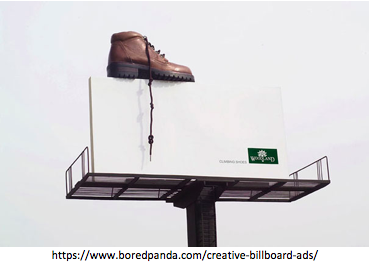 Disruptive Marketing
There are many other creative ways for outdoor brands to advertise their products, including disruptive marketing. Many companies have engaged in disruptive marketing tactics to indirectly attract consumers and sell products, including Patagonia and REI. In 2011, Patagonia started running their "Don't Buy This Jacket" ads.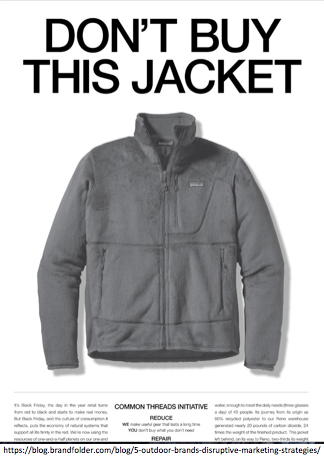 In the advertisements, the company urged consumers to not buy what they don't need, including another jacket, in order to decrease waste. Patagonia, one of the best examples of a socially responsible business today, has always advocated for environmental protection, and this advertisement was just one of the ways they "walked the walk." Even though the advertisement urged consumers not to buy their clothes, their dedication to their mission and to creating a better world earned them an insane amount of brand affinity and is to-date one of their most effective advertising campaigns.
Another example of an outdoor brand using disruptive marketing is REI. In 2015, REI decided to opt out of Black Friday, quite possibly the most lucrative day of the year for any business. They titled this the #OptOutside campaign and urged consumers to spend their day outside instead of locked up in busy storeroom. They did everything from create #OptOutside boxes (pictured below) stuffed with camping-ready imitation Thanksgiving food to phone applications pointing consumers to the closest trail.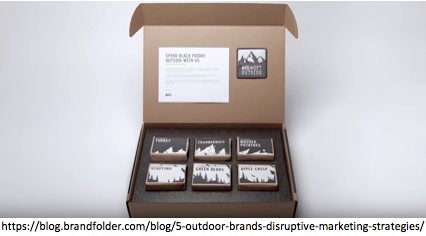 Just a day after the introduction of the campaign, REI garnered more than 2.7 billion PR impressions and their mentions on social media rose 7,000%. By the end of it, the campaign garnered 6.7 billion PR impressions and led the company to receiving nine awards at the Cannes Lions International Festival of Creativity. REI did what many companies wouldn't dare to do, they closed their stores on one of the busiest shopping days of the year; but, what they didn't gain in sales that day, they gained in consumer recognition, brand affinity, and in turn improvement to their bottom line.

So, while there are many methods through which outdoor brands can get the word out about what they're selling, innovative outdoor advertising, such as billboards, and especially disruptive marketing have proven to be two creative and effective ways through which to do that.

Posted by Forrest Andrews, Marketing Intern at initiate-it, a digital first, full-service agency located in Richmond, VA. 

Tagged with: advertising, advertising agency, brand awareness, brand culture, creative, marketing, outdoor brands, outside, technology


---