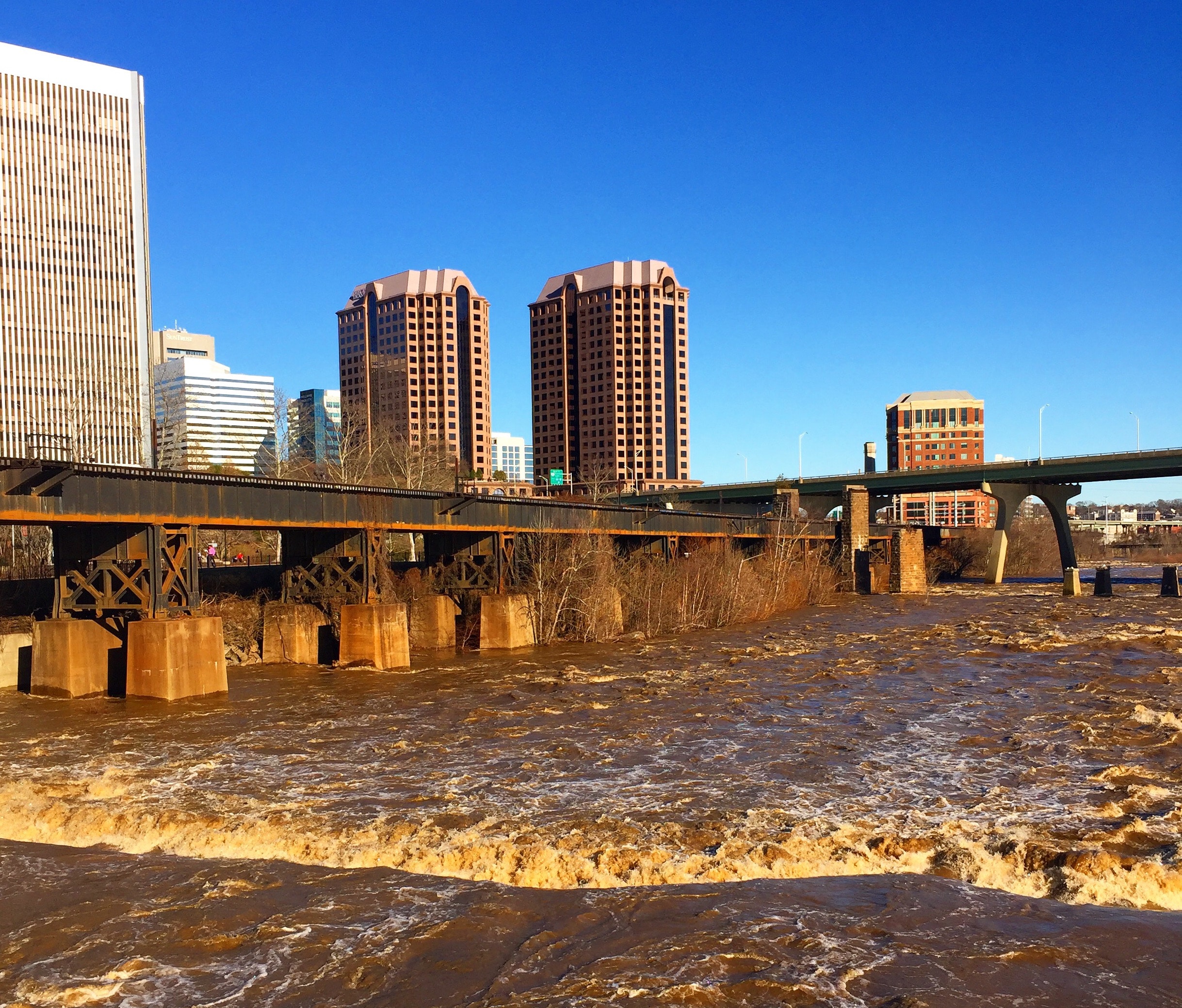 Anyone who has visited Richmond, VA will tell you of the many food options the city has to offer. From its corner mom & pop shops to its extravagant cuisine there is something for every pallet. We are surrounded by this culture daily, as we live, work, and play in the RVA. Below are our top picks for the best lunch spots throughout the city!
Sticky Rice – Tom Hinkes, Content Marketing Writer
Dining at Sticky Rice is like walking into an alcoholic child's bedroom and never wanting to leave. As you cross the threshold separating you from Main Street, you're immediately greeted by one of a half-dozen friendly hosts or hostesses. All of whom are clad in the traditional hipster garb; black. As you're being ushered to your table, you notice a few things about the décor: A gong hanging above a floor to ceiling mirror behind the bar, scrawling depictions of Godzilla on the fire-red walls, and a fully-stocked sushi bar set off to the side. Once you're seated and considering your options, I recommend the "Bucket o' Tots," which is exactly what is sounds like, and the "Snap-Crackle-Pop," sushi roll. To wash it down I advise you indulge in a refreshing Richmond staple, Pabst Blue Ribbon. While it's always a good time for a Pabst, at Sticky Rice, PBRs are $1.00 whenever it is raining, below 32 degrees, or anytime you can produce a tattoo that displays the Sticky Rice logo, a cartoonish asterisks-looking symbol. Perfectly blending the Richmond feel with cheap eats and fun atmosphere, Sticky Rice won me over on my first trip and has kept me coming back ever since.
Alamo BBQ – Melissa Mullen, Strategic Account Manager
Their website is right – it really is a little bit of Texas right here in Virginia. Only a 2-minute drive from our office, Alamo is the perfect place to grab a savory lunch without breaking the bank. The outdoor-only seating is favorable in the Spring and Fall, but they partner with Grubhub if you don't want to brave the weather or can't catch a break between meetings. I can only make one recommendation since I have never felt the need to try anything else. The Pulled Pork w/ Slaw has the perfect meat/BBQ tang ratio. If you're feeling extra adventurous, add on a side of the Jalapeno Mac & Cheese. It's cheesy, creamy, and will kick you in the mouth with the perfect amount of hotness.
The Daily – Lisa Rogerson, VP Digital
Wow, it's hard to pick one lunch spot that's my favorite in Richmond, as the food choices are so amazing. My often chosen, go-to is The Daily. Its large enough that its usually pretty easy to get a table at lunch time. Its centrally located, we work in Church Hill, so it's a good meeting spot between us and someone coming from the west end. The food is fresh, consistently good and they are very amenable to special requests, diets and the like.  I also love the outdoor patio and people watching in Carytown. Overall, a great place for a business lunch.
Citizen RVA – Sarah Prokopchak, JR Account Executive
My go-to lunch spot would have to be Citizen RVA. It's great for eating in and also take out. I'm a big breakfast food fan anytime of the day, and many of their lunch options revolve around breakfast foods. My favorite menu item is the Disco Eggs, aka the only thing I ever eat there! I mean, how cool is the name alone?! Not only is it a great place to meet friends, but it's also a great spot for lunch meetings as well. Great atmosphere, great food – what more could you want!
Burger Bach – Kara Whitely, Digital Marketing Analyst
Burger Bach – Yes, it's a chain, but I love this place! Aah-mazing food, cozy atmosphere with a modern vibe, and a great selection of beer, fun cocktails, and wine…. what more could you want? Oh, did I mention the part about 100% grass-fed New Zealand beef AND the fact that they offer multiple gluten-free options? WOO-HOO!! (Yes, I get excited about grass-fed and gluten-free because of a restricted diet, and it's tough to find places to eat in Richmond with dedicated GF cooking stations). But, gluten-free aside, Burger Bach is just downright awesome. I love their selection of all-natural ingredients, unique choice of burgers and chicken sandwiches (some are so messy you need a knife and fork), delicious seafood, and of course the fries complimented with your choice of fresh-made dipping sauces (garlic-ailoi….yuuuuuuummmm).
Mellow Mushroom – Alyssa Drewicz, Social Media Coordinator
Mellow Mushroom is my favorite place to eat in Richmond! I love pizza especially their amazing Funky Q. Chicken Pizza. It features BBQ chicken, two types of cheese, caramelized onions and bacon! If that doesn't make you hungry, I don't know what will. The pizza also pairs great with any of the beers on tap! Not only is the food delicious but the environment is very unique. From their murals on the building to their wall of records there is always something to see at Mellow. The staff is also very welcoming and strive to help you have the best experience.
821 Cafe – Meg Mergenmeier, Marketing Intern
Being a VCU student, I'm looking for convenience, reasonable prices, and delicious food. The 821 Cafe located on Cary Street right in the heart of VCU campus hits all three of those points without a doubt. They have anything from a hearty grilled cheese to a grilled peanut butter banana AND bacon sandwich…doesn't get much better than that. They also have a selection of deserts that changes daily and never disappoints. My personal favorite was their carrot cake! Whether you want a fun new brunch spot, easy lunch grab, or just need to wind down with a beer, 821 Cafe should be on the top of your list for new restaurants to check out.