The holiday season is approaching quickly… every year, marketers and advertisers must take advantage of this time to create memorable, touching, funny, and original content for commercials, digital, and print ads. There are endless, varying approaches to holiday ads – let's take a look at some iconic ones throughout the years, rewinding all the way back to the 1970s. 
Coca-Cola has been advertising during the Christmas season for over 90 years now. Christmas is forever associated with Coca-Cola, thanks to its supreme advertising. In 2020, Coca-Cola was coined the "most effective Christmas campaign" by marketingweek.com. This video encompasses all the joy and hope of Christmas, with waves of nostalgia and the overwhelming importance of caring for our loved ones. It's a tearjerker that promotes family and togetherness rather than material items. Coca-Cola has mastered the art of keeping a relevant and family approach to the holiday season. Somehow, an ice-cold beverage fits seemingly with Christmas morning. Cheers! 
For over 20 years, we have faithfully watched Santa and Red M&M faint in tandem on Christmas Eve, questioning the existence of one another. In 2017, Yellow swoops in to save the day (or attempt to) and round out the years-long saga that began in 1996. M&M's keeping the same storyline all these years has ensured that their audience would remain interested – the viewers from 1996 were just as eager to discover what finally happened to Santa and the M&Ms in 2017's sequel.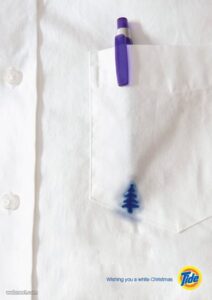 Tide keeps it simple and straightforward. The contrast of the ink stain against the crisp white button down goes well with the tagline that graces the bottom of the page – "wishing you a white Christmas." Although we may not always think of cleaning products when we think of Christmas, you're sure to need some after hosting a holiday party!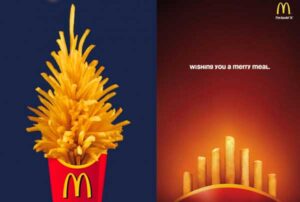 McDonald's wishes everyone a merry meal with a simple menorah-shaped french fry setup. They have a similar ad that features fries in the shape of a Christmas tree. With these two symbols, McDonalds is incorporating inclusivity into their ad strategy.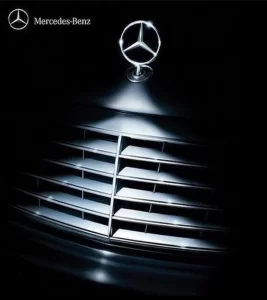 Mercedes-Benz has perfectly captured subtlety and branding with their simple yet classic 2013 Christmas ad. The lights from the car illuminate into the shape of a Christmas tree, with the Mercedes-Benz logo christening the tree as the topper. You wouldn't expect something bright or unprofessional from Mercedes-Benz, and this ad encompasses their luxury shopping experience and premium auto inventory with a stylistic approach.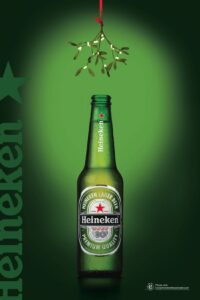 Heineken is known for its green, and that fact does not falter – especially not around Christmas time. This ad is playful yet simple; the mistletoe is tasteful, not too overdone, and fits perfectly with Heineken's brand color. So many alcohol companies advertise year-round, but they really have to stand out during the holiday season.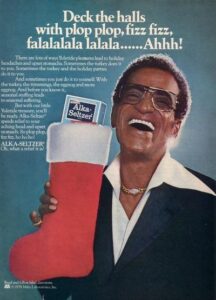 It just so happens that flu season and Christmas share the same time of year. Alka-Seltzer seized this opportunity in 1978 and created a fun yet informative ad. Most people are thinking about buying presents and decorations, but cold medicine is a necessity during the chillier months of the year.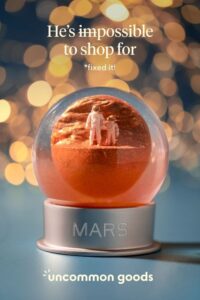 UncommonGoods has found a way to showcase their noteworthy and rare gifts while lightheartedly poking fun at the challenge of getting the difficult people on your list the perfect gift. What do you get the guy who has everything? Mars (in a snow globe). Mission: possible!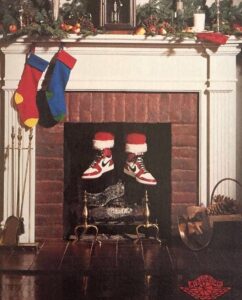 Nike absolutely killed it with this one. Their 1985 Christmas ad showcases a pair of their Jordans, on Santa's feet, heading down the chimney. This ad mixes great product placement with outstanding holiday spirit that evokes nostalgia and warm fuzzy feelings. 
From our family here at initiate-it to yours, we wish you a merry and bright holiday season!