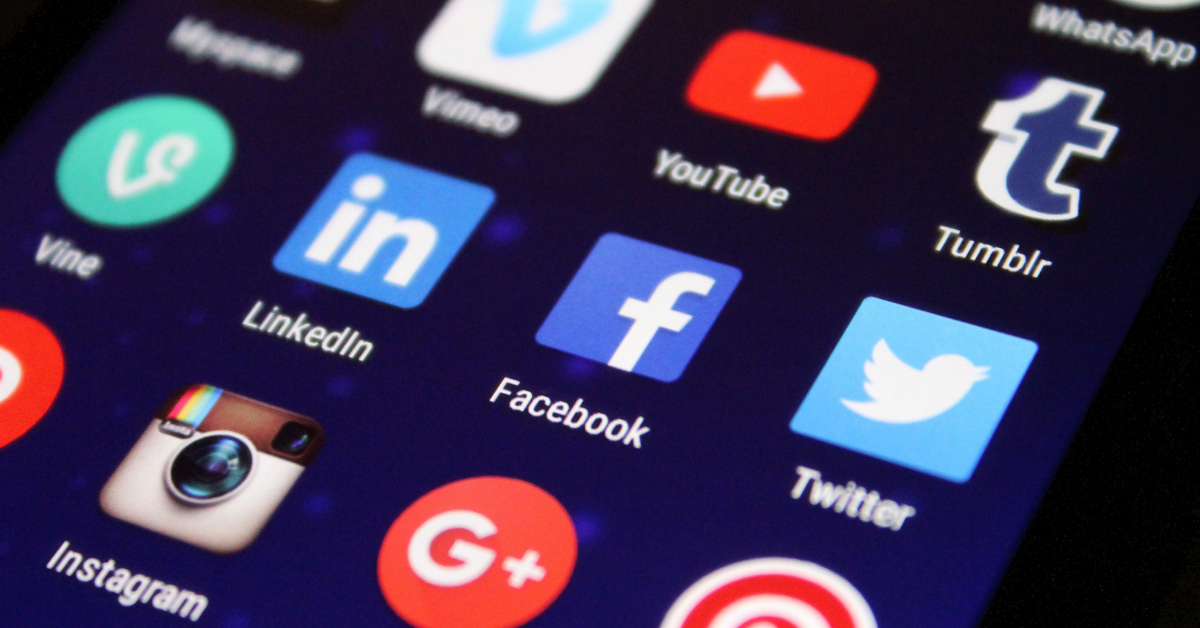 It's officially 2019! By now, I'm sure you have heard that your business needs to have a social media presence. You have either jumped on the bandwagon and found success or still don't quite understand the importance. If you have created a great social media presence for your brand, you should have seen your engagement rise. Whether this engagement is positive or negative, how you handle comments on your page matters. An easy way to make sure you never lose your followers is to make sure you have a social media customer service strategy in place.
A social media customer service strategy is a great way to make sure you address every comment made on your page or social media advertisement. If comments go unnoticed, followers will begin to believe you do not care or value your customers. To help you avoid this reputation, below are three tips to assist you in your strategy and follow through.
Utilize Social Listening Software
Social listening products are a great resource to track who is talking about your brand in real time. These tools include products such as Hootsuite, Keyhole, and Mention. Through the use of these services, you have the ability to see what is being said about your brand, online, without having to check your social accounts consistently throughout the day. When set up properly, you can track when someone mentions your brand name or selected keywords. These keywords can include variations of your brand name, product names, common misspellings, or competitor terms. By setting up these keywords, you will be able to have a full view of your brand's online perception and reputation. For example, our client Sandler Training (a global training leader in sales, management, and leadership), would not only want to track their account mentions, but also variations of their name. These variations would include Sandler, Sandler Sales, Sandler Sales Training, Sandler Online, and Sndler Training (notice misspelling). Basing your social listening around keyword variations will help you see and understand the full picture of your brand.
Make Sure Your First Response Is Public
Everything is public on social media. Your followers are always watching. With that in mind, when someone comments on your post or an ad, you must respond directly to the comment. In many cases, multiple customers will experience the same problem with a business. When you respond to one of your customer's comments on social media publicly, you are responding to an entire group of either happy or unhappy customers. Your public response will show you value all current and potential customers. You are listening to their concerns and taking the time to make sure they are heard. Below is an example from Promo, a marketing video creation platform. The company was recently running a Facebook ad promoting their services. As you can see in the example below, Promo responds to every comment publicly. Whether this is a positive or negative comment, they make sure their response is heard.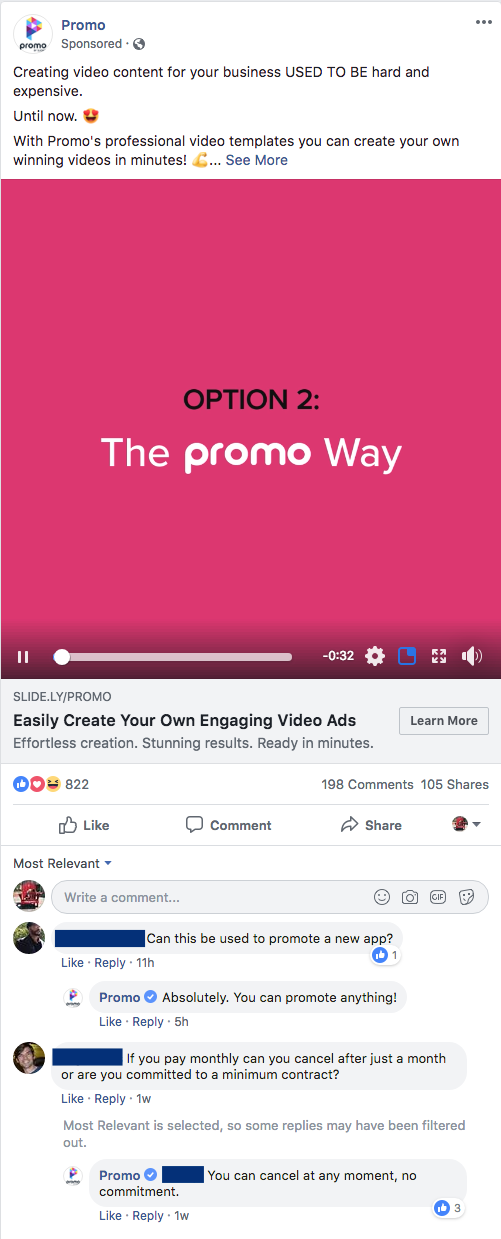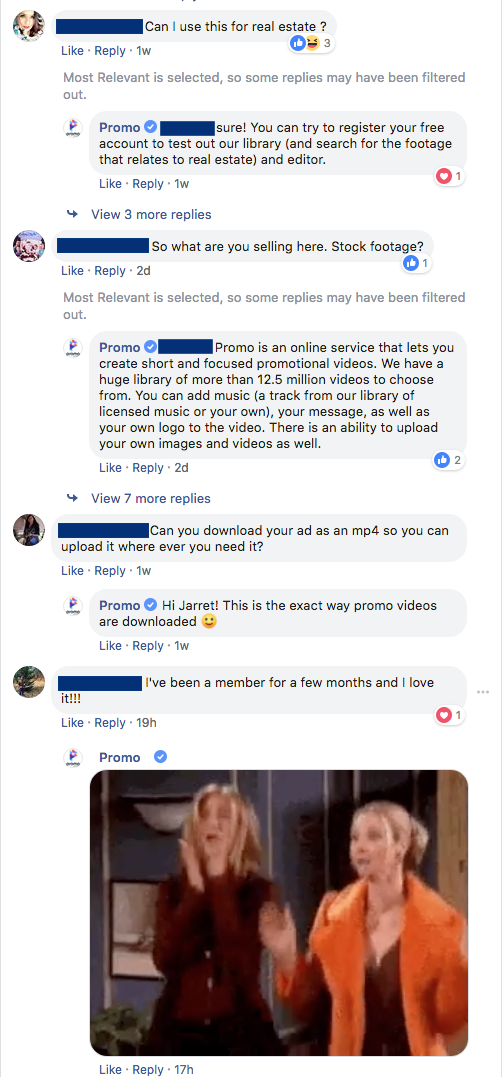 As seen in Promo's responses above, not only do public responses matter but so does your tone. You cannot simply respond without showing compassion and empathy.  If your responses sound robotic your followers will not care, and they will not take your response seriously. They will not believe that you truly value their inquiries about your business.
Take Your Response Offline
Just because your first response needs to be public, that does not mean your entire customer conversation does. Remember, if needed, you can pull the conversation out of the public eye. Switching channels or means of communication can be beneficial in some customer service discussions. In many instances, you will need private information in order to solve a problem. In these cases, switching to messenger, email, or a phone call is the best move. No matter what channel you will be switching the conversation to, you should always make at least one response on their comment directly, or publicly. If you immediately know you will need to change communication channels, let them know how you will be reaching out to them in the first public comment. Below is an example from our client, My M&M'S. In their first response to an unhappy customer, they move to take the conversation offline.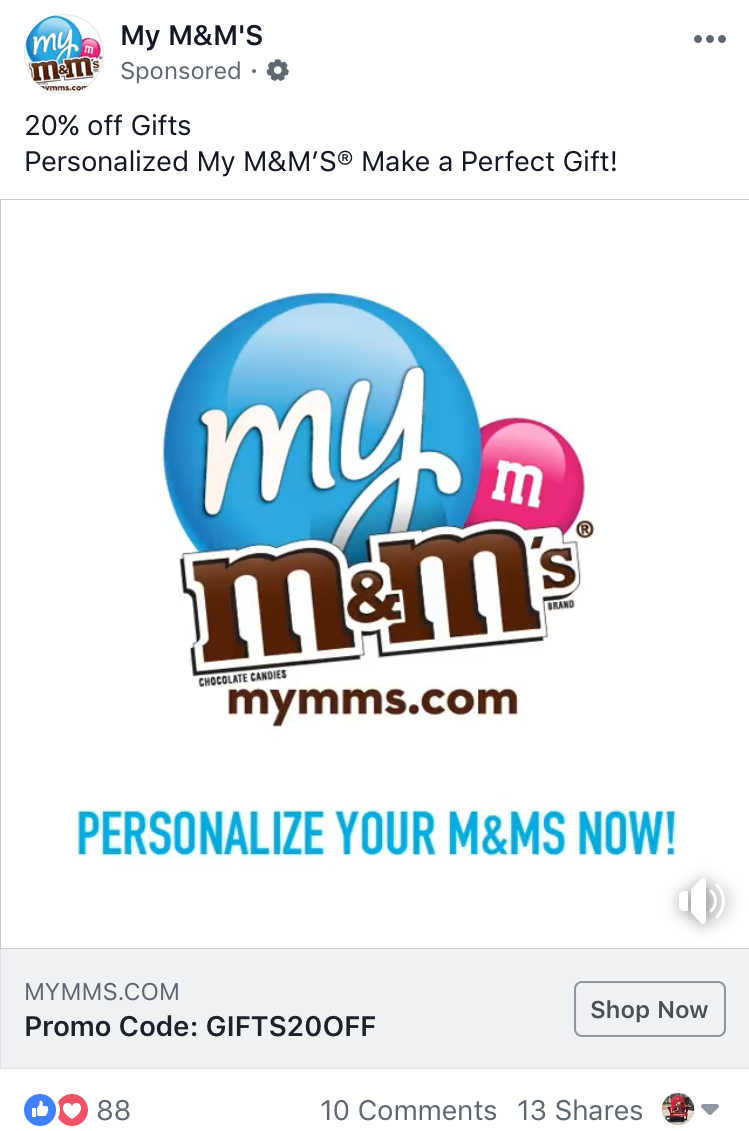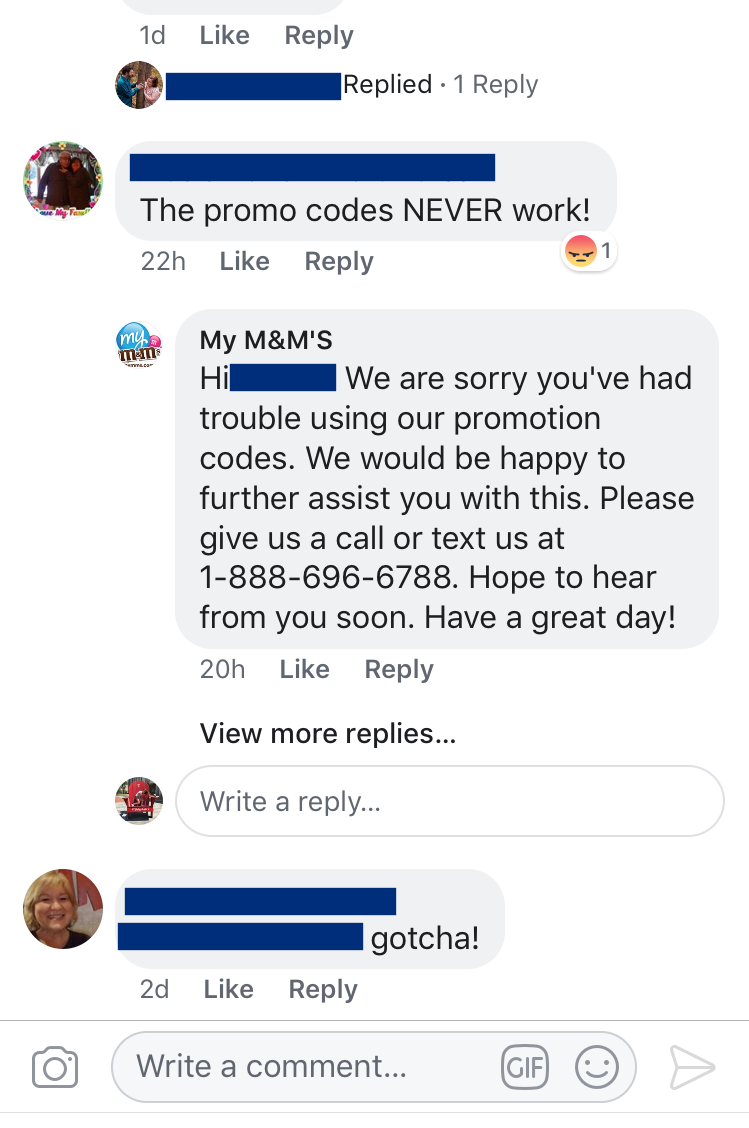 As you can see, they make sure to show both empathy and eagerness to help resolve the issue. They want to help their customer, but in order to solve the problem, the conversation needs to be taken offline.
Having a social media customer service strategy is a necessity in today's social world. When implemented correctly, you can experience great success. This strategy will not only help your online brand image but will also show that you truly care about and value your customers. Let us know in the comments below if you have implemented a social media customer service strategy for your brand.
Posted by Alyssa Drewicz, Digital Analyst at initiate-it, a digital-first, full-service agency located in Richmond, VA.