It's that time of the year where we are all dusting off our crystal balls to try and predict what will be hot in 2022. If your crystal ball is having an off-year (like us all), might we suggest diving into others' predictions? Major companies are utilizing their own insights to share their take on potential trends for the year to come. We compiled various trend reports marketers and designers should keep in mind: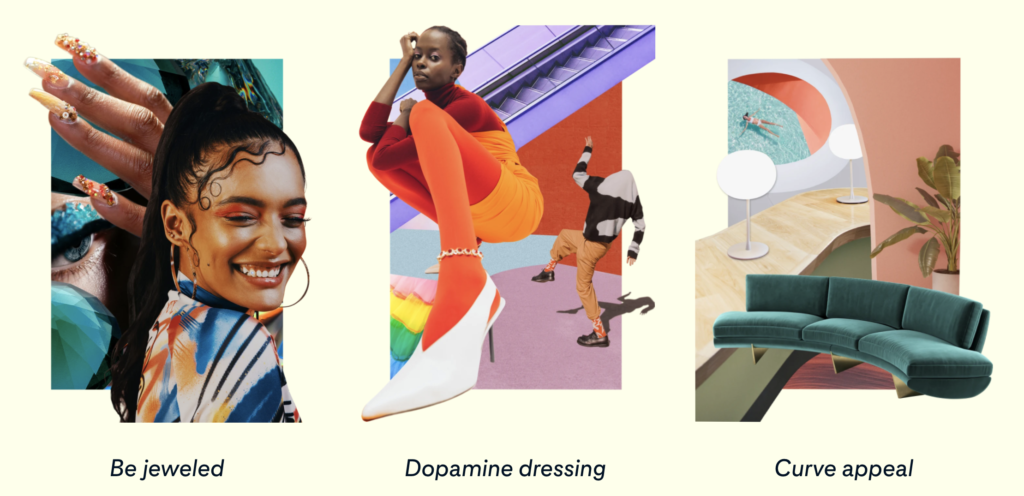 Pinterest returns again with what they call "a not-yet-trending report." Utilizing data insights and predictive analytics, they dive deep into their own consumer patterns to understand what appears to be rising in popularity across categories. So, what can we expect to see more of on our Pinterest feeds? From jewels to curves to checkered print, check out their full report for an in-depth look.
Are you up-to-date on the right tactics to reach your target audience? To ensure you're hitting your audience from all relevant angles, Adweek delivered on the 5 Performance Marketing Trends to watch in 2022.
Spanning over a couple of unpredictable years, the graphic design world has seen a shift in trend consistency. Shutterstock takes an excited and inspired approach towards where this industry is headed. Movement, custom typography, and cyberpunk are just a few elements finding their place in the spotlight.
Calling all social media managers (and those trying to juggle multiple facets of marketing): Hubspot partnered up with Talkwalker to produce a report with "everything you need to know for a successful social media strategy in 2022." With an industry that's constantly evolving, it's important to stay current. This report allows you to tap into industry experts and learn more about the future of prevalent topics such as TikTok and metaverses.  
The question remains… Do these trends develop organically, or are these companies cultivating and influencing these trends just by producing these reports? Regardless of what you believe, don't make the mistake of getting stuck in 2021.