Every summer, companies try to get their audience excited for the season of relaxation and hot vacation days. We've seen this through creating and marketing a new product or coming out with a new summer flavor. Here are some of initiate-it's favorite ads of summer 2022!
Coors Light
This Coors Light commercial highlights the beer as "the official beer of everything unofficial," showing how the beer is meant to be sipped while relaxing in the summer. Throughout, 'unofficial' is displayed across the screen, showing the chill life when drinking Coors Light. This commercial exhibits the peak of summertime. While Coors Light isn't our beverage of choice for the summer, we appreciate this clever TV spot.
Shibumi Shade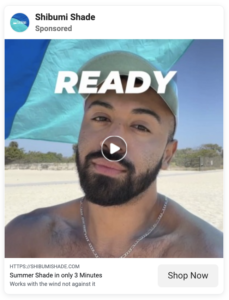 Shibumi Shades were something we all saw last summer but were unsure what they actually were. Now, they're one of the most popular beach umbrellas. We noticed Shibumi's ads because of their organic look and feel. Posting their ads mainly on Facebook, they're taking a minimalistic approach by keeping their ads simple, yet informative. We might even have to purchase one of these things for the office!
White Claw REFRSHR
This White Claw REFRSHR campaign taps into the use of 're' for their new hard beverage. This video ad, "Always Re," talks about those who reinvent, redefine, recreate, and so on, highlighting success. Not only did White Claw create a video ad for this new product, but they also have been posting video and graphic ads across Instagram feeds and Stories. We are REady to try these out.
Häagen-Dazs
In this Häagen-Dazs video ad, people are snacking on the new Häagen-Dazs flavors around the city. A catchy song plays as ice cream is being shared with friends. Ice cream is one of our favorite summer snacks, so we obviously had to include this ad as one of our favorites!
We are seeing a clear trend here, using the same music as the White Claw REFRSHR campaign. The initiate-it team must be ahead of the curve, though, as we actually did it first!