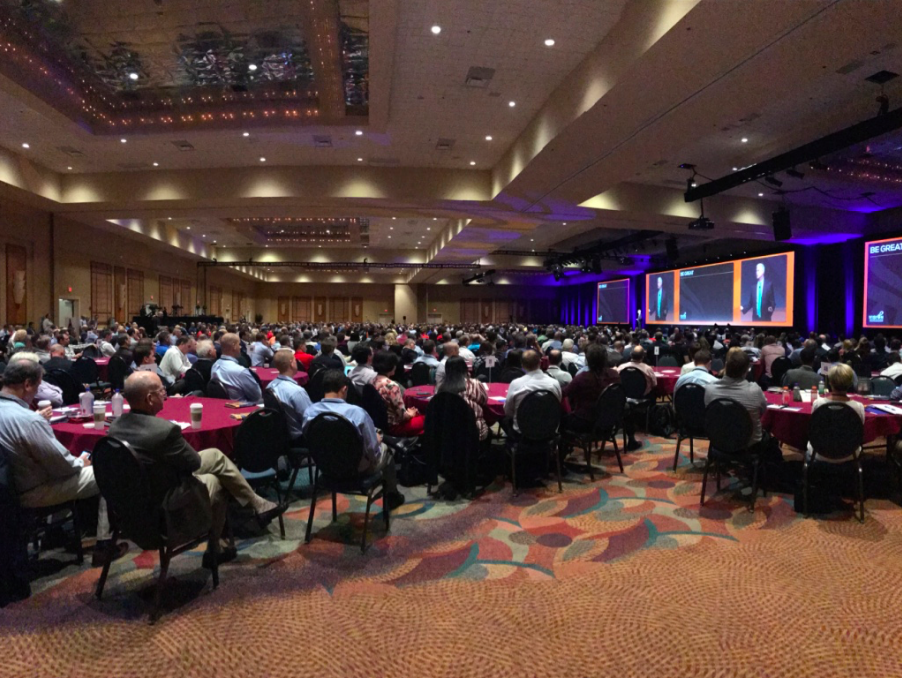 No matter the industry, conferences are important to continue education. Whether you're hosting a conference or helping your client with their social media content, it's key to understand why leveraging social media can increase engagement and brand reach.
Below are a few ways to leverage social media at your next conference:
1. Let people know how to be social and engage with the brand.
How will people know to engage with you if you don't tell them how? Make sure you share your social channels, hashtags, and any other key information for attendees to engage. For example, if you're running a contest or poll, be sure to let them know ahead of time.
In regards to event branding, be sure to include a handout or insert within the conference folder or notebook. This should include the social channels that your company will be using to share content, hashtags, and any other necessary information such as Snapchat filters. This allows every person who attends the conference to have an easy guide to tell them how they can be social and engage with your brand. It's also a great idea to create leave behinds for tables in the conference sessions. These can be business cards featuring your brand's social information for any attendee to grab and keep in their pocket or wallet.
Finally, be sure to have a conversation with the conference host or MC. It's important to make sure you brief them on all of the social information prior to the event.  This way they can make an announcement from the platform at the beginning of the conference, as well as encourage people to engage on social platforms during breaks.
2. Utilize a live social feed.
Live social feeds are simply another way to get people excited about engaging with your brand. There are many live social feed platforms out there, so be sure to research and find the right one that suites your social needs. For example, some live social feeds pull in just Twitter, while others pull in Twitter, Facebook, and Instagram.
Work with the AV team to make sure you can display the live social feed in different areas of the conference. Utilize the screens in the main conference ballroom, as well as breakout sessions and any other areas where attendees will be mingling or networking. This encourages attendees to engage with the brand socially, especially when they see all of the fun takeaways and pictures that others are sharing. Also, they will be excited when they see their post on the live feed!
3. Incorporate real-time content.
Real-time content is key for conferences, in order to generate engagement and extend brand reach. As you know, platforms like Facebook prioritize live content, so the more you incorporate live content into your conference social strategy, the more you will reap the benefits.
Facebook LIVE is a great way to begin incorporating live video content. Make sure the sessions are authentic. It's important to choose a spokesperson for your Facebook LIVE sessions. This person needs to be familiar with the brand and also with the objective of Facebook LIVE. Outline a plan before you get to the conference of the types of live content you're looking to capture. This could be the opening speaker, quick takeaways from sessions, recaps during the breaks, or even chatting with attendees during the cocktail hours. The more you can incorporate live content, the more you will extend the brand reach and generate engagement. Don't forget – you can also "go live" on Snapchat and Instagram as well.
4. Develop fun activities to encourage engagement.
Contents and polls are another way to get people engaged and start conversations. Develop some fun contests or polls that relate to conference topics and have attendees share their answers on social using a hashtag. Have some swag to hand out at the conference for winners. Not only will contests encourage individuals to add to the social conversation around the event, but people love free stuff! Scavenger hunts are also a unique way to make a conference fun for attendees while utilizing social.
How have you incorporated a social media strategy into conferences for clients? Share your ideas below!
Posted by Sarah Prokopchak, Account Executive at initiate-it, a digital-first, full-service agency in Richmond, Virginia. Sarah has been working with initiate-it for over three years on a variety of client accounts including Sandler Training and VCU Health.