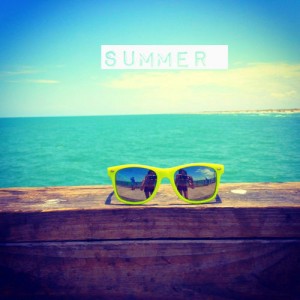 It's hard to be in the office all day when it's nice out and your staff is secretly wishing that they were at the pool or beach. And there's still another two months to go! But don't worry, there are many ways to keep your team driven during the summer months.
1. Half-day Fridays
Half-day Fridays are a great way to treat your staff to an early weekend. It's also a mood booster and something exciting that your staff can look forward to all week if you make the announcement during Monday's status meeting.
2. Take walks or eat lunch outside
Encourage your staff to join you for a short walk around the block. It's a nice mental break, especially if you're sitting at a desk all day. It's also nice to eat lunch outside. Getting out and enjoying some fresh air will help your staff stay focused for the remainder of the afternoon. And remember to lead by example!
3. Who doesn't love happy hour?
I don't think any staff member will complain about happy hour! Leave work a little early every once in awhile and treat your staff to a few drinks.
4. Team building event
Team building events are great ways to get out of the office for a day to get to know one another outside of work. Events like these can have a significant, positive impact on work relationships and also create a more enjoyable work environment. Remember that donating your time to a homeless shelter or other charitable causes are a great way to not only bring the team together, but to feel good about giving back.
5. Allow an ample number of vacation days
Everyone needs a break, even you! Make sure you allow plenty of paid vacation days for you and your staff – and encourage them to use those days!!! It's helpful for every team member to enjoy a trip and come back to the office rested and re-energized.
6. Integrate a rewards program
Rewards and/or bonus programs are a generous way to keep your staff motivated year-round. In the summer, for example, you could offer an additional vacation day to each person who brings in a new client lead. Rewards programs allow your staff to get excited and stay motivated.
Posted by Sarah Prokopchak, Account Coordinator at initiate-it, a fully committed, fully prepared, full-service agency in Richmond, Virginia. Sarah has been working with initiate-it for over two years on a variety of client accounts including Sandler, VCU Health and CarLotz.