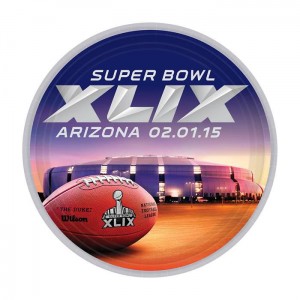 For our staff at initiate-it, the Super Bowl means more than indulging in frosty cold beverages, countless wings, scoops of nachos piled with dips and the late-night wake up call named heartburn.
It's the one day every year we get to sit at Super Bowl parties and actually be proud of our profession. On this hallowed Sunday, we get the pleasure of having everyone in the room turn to gauge our reaction and get our insight after every sacred commercial break. It's the one day our parents are actually proud to call us their sons or daughters as they to announce at their parties, "You know my kid works in advertising, right? I wonder what they thought of that commercial?"
This is the day we prepare for like NASA prepares for a Shuttle launch. It's the day we study every commercial second with the same intensity that Lou Holtz paces the sideline. Yes, my friends, this is the day the person next to you looks you squarely in the eye while shoving mini tacos in their mouth and says, "Hey, you work in advertising don't you? What did you think of that ad? I thought it sucked!" We finally get to respond, "Yeah, it did suck. My firm would have gone in a totally different direction, they completely missed the mark."
The 2015 Super Bowl game hosted in Glendale, AZ, featured the Seahawks vs. the Patriots with two great quarterbacks, one at the beginning of his career and one at the end, kind of like the 2014 Broncos/Seahawks matchup.
After a long hiatus, this year's game brought back advertisers such as Nissan (1997), Nationwide (2007) and Victoria's Secret (2008). It also showcased 15 Super Bowl virgins including Locite, Skittles and Wix.com. Also, let's not forget the old timers at the table such as McDonald's, Anheuser-Busch and Coca-Cola.
With a :30 spot in this year's Super Bowl averaging $4.5 million, our team at initiate-it wanted to share our insights on the game's advertising winners and losers. We're excited to see your thoughts on our picks as well. Comment away!
Andrew Smith, President
This year, all the ads were basically very emotional, tugging at the viewers' heartstrings. This ad really hit home with me personally, because I am the father of an 8-year-old girl and a 10-year-old boy. The ad grabbed my attention from the beginning because I didn't know what to expect. I had the "gotcha moment" right around the :15 sec mark, when I totally felt guilty for all my past references to women while growing up. The words, "You throw like a girl" just pierced my memory! Well done Proctor and Gamble!
I had two ads this year that really struck out in my mind as the worst. The first is Loctite's "Positive Feelings." I looked at the reaction of everyone in the room at the end of that spot and was literally a look of, "What was that?" followed by about two seconds of, "and I really don't care." What a blown opportunity, and to think that they spent their entire year's budget on that junk. The second was Bud Light's "Pac-Man." I am a Gen-xer who grew up with Pac-Man and the arcade you had to visit to play it – that's right, pre-Atari days. The whole element of surprise is so awkward on all these spots; don't you remember the Tampa Bay guy with Warren Sapp? I think the entire campaign is awkward, not interesting and should be gobbled up by a ghost, never to be replayed. Definitely a loser in my book.
Laura Perry, Senior Account Executive
This ad is a throwback to 1994 where they're trying to understand the Internet. Although it may not appeal to the younger generation, it certainly evokes a memory of when the "world wide web" was first being introduced. It's just a fad, right? Not so much. Who knows, maybe this new electric car is the next big idea, and as they stated in the commercial, "Big ideas take a little getting used to."
Okay, no one likes to think about toenail fungus, much less during a Super Bowl party where you're noshing on yummy dips and chicken wings. What makes it worse is the commercial was done in animation with an image of a football helmet on a big toe. They tried too hard to make a connection between the football game and fungus, and apparently paid $4.5 million to do it. Not effective.
Crissy Trus, Director of Digital
This was an all around good commercial. Who doesn't love a puppy? Then add the Clydesdale horses to save the day … amazing! Everyone sitting around the couch had their eyes glued to the TV as they were running back home. I have to admit, I had a tear in my eye. I loved that spot.
Seriously, this commercial made the entire room go completely quiet. While it certainly did have the "shock" effect, it scared my kids and made me want to cry. It my opinion, it was morbid, went too far it and I hated it.
Jo Lord, Copywriter
Best: Always' "Like a Girl"
The ad begins with screen text asking, "When did doing something like a girl become an insult?" (Indeed.) At the end, an unseen voiceover asks a tiny girl in a pink dress, "What does it mean to run like a girl?" She answers, matter-of-factly, "It means to run as fast as you can." (Sniff.) Ads like this remind me that those of us in our industry can take our abilities and make a difference by pointing to a problem in an interesting way. It makes me happy that I majored in advertising and do what I do. Good thing I studied hard and excelled like a girl.
Worst: GoDaddy's "Journey Home"
I was already primed to list my 'worst' Super Bowl ad as the one by GoDaddy, because it often is. The company's past reliance on T&A annoys me as a woman, yes, but mostly as a creative in this business. It's just so LAZY. This year my least favorite ad was, as I'd predicted, by GoDaddy. The thing is, it didn't actually run. Long story short, GoDaddy first produced an ad that makes light of the puppy mill issue. It was pulled after a storm of protest. Surprisingly, I loved the ad that GoDaddy replaced it with, an ode to hard work and passion.
Steve Fortier, Creative Lead
Best: Always' "Like a Girl"
One that stuck out, and it received a round of applause from the female portion of the crowd, was the Always "Like a Girl" spot. I know this spot has been criticized as just panning to the target but when those critics involved offered examples of spots that they thought were better, it was clear they didn't know what they were talking about. It's a good ad that makes us take a second look at reality and it's sponsored by a smart client. It's legit.
I might be giving this one a slight edge because it continues the "girl" theme: the Victoria's Secret "Real Game" spot. Don't get me wrong. I have nothing against lacy underwear, but no twist? No humor? It's too much media money to tell me what I already know and as close to boring as good-looking women can get.
Jason Taylor, Art Director
This one surprised me. The 60-second cut of this domestic violence PSA is the best and plays out better. I really had no idea what was going on and it gave me chills when I realized what was happening. The fact that it's an actual 911 call really gets to me. It makes the simple point that we, and the NFL, should be looking out for women in this situation. I also think it's a nice reminder that this world is a much better place when we help each other. It's nice to see a message like that get attention during an event like the Super Bowl.
Huh? Does the kid want to be a racecar driver too? Or does he resent his dad? I can't figure it out. Isn't "racecar driver" a job title no son could think was lame? And why isn't the family attending any races? There seem to be plenty of clips of the family all having a good time together, but they also seem unhappy. Why? What's keeping them from the track? Did they not get a family car until dad finally won a race? What is the point of this ad? I have so many questions about the family and absolutely none about the car.
Anne Powell, Project Manager/Art Director
A contemporary version of the old 70's commercial: "I'd like to buy the world a Coke and keep it company." Same core message: Coke will make everything better. Safe, positive, uplifting and the takeaway was very clear.
Was this an ad for T-Mobile or Kim's new book? Selfie? Do we really need to ask ourselves where Kim saves her data?
Elizabeth Coffey, Graphic Designer
Best: BMW i3's "Newfangled Idea"
The 20-year-old clip of Katie Couric and Bryant Gumbel trying to figure out the Internet was very entertaining, and a reminder that today's new technology will be commonplace in a few years. Great job of appealing to an older audience that remembers when there was no Internet.
Worst: Jublia's "Tackle It"
Admittedly, a toenail fungus treatment isn't the easiest product to advertise, but I can't believe this ad is the best they could come up with. Putting a football helmet on a toe is sophomoric and dated. Not clever. Not entertaining. Not good.
Sarah Prokopchak, Account Coordinator
This was pretty clever. You think you're watching a commercial for "Taken 3," only to find out that it's a commercial for a mobile video game. Recently, TV ads for mobile video games have taken off. It's crazy how much money they must spend on these commercials with the actors and animation. Regardless of the advertisements, people are still playing these games. However, I liked how this commercial targeted an older audience with Liam Neeson and the "Taken" spin.
Worst: T-Mobile's "Kim's Data Stash"
Okay, so this was kind of funny. But I think T-Mobile could have found an actual famous person to use for their Super Bowl commercial. Not to mention that Kim Kardashian was marketing her own "Selfie" book as well. After watching this commercial, I forgot it was for T-Mobile.