The UCI Road World Championships is being held in our local city of Richmond this year. This is the second time The Worlds has been held in the United States, and the first time in the past 30 years. With 75 countries being represented, this is such an amazing publicity opportunity for Richmond. There has been so much excitement around the event, I knew this would be a great chance to take a look at the buzz on social media and the marketing strategy and tactics used to promote it.
Twitter was the most intriguing channel to study in terms of promotion of the event on both local and national/international levels. The official hashtag for the event is "#Richmond2015." I followed conversations among local residents and news entities, as well as the official Twitter account for UCI and The Worlds event itself. What I found to be interesting is why "#Richmond2015" was chosen as the desired hashtag instead of using something along the lines of "#RVA2015."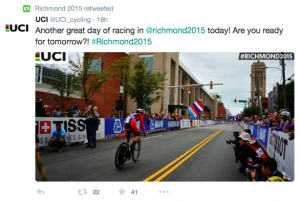 I can only assume the "#Richmond2015" hashtag was chosen in order to promote the event on a national level. When I perused the Twitter accounts of Richmond residents and local news entities, I noticed that the "#RVA" hashtag is being used in conjunction with the "#Richmond2015" hashtag, therefore promoting the event locally. Another reason why "#Richmond2015" is being used predominately for The Worlds is because it has become the official hashtag for the event, or an "ownable" hashtag, since "#RVA" has already been used by many to represent Richmond on its own. By using the "ownable" hashtag, it separates The Worlds from all    the clutter in social media.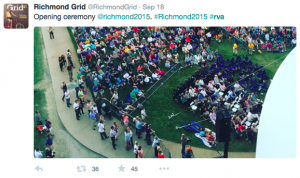 I also researched the press around the event, and The Worlds is being promoted in local Richmond news, national news, and international news such as Business Insider. Universal Sports Network and NBC Sports Group will be airing 26 hours of live coverage of the event, which is the most live television coverage of The Worlds— ever. You can also live stream the event from Richmond2015.com. Everyone's eyes are on Richmond this week!
Interested in getting a good seat for the race? Join us this Thursday—we have front row seats!


Posted by Sarah Prokopchak, Account Coordinator at initiate-it, a fully committed, fully prepared, full-service agency in Richmond, Virginia. Sarah has been working with initiate-it for over two years on a variety of client accounts including Sandler, VCU Health and CarLotz.