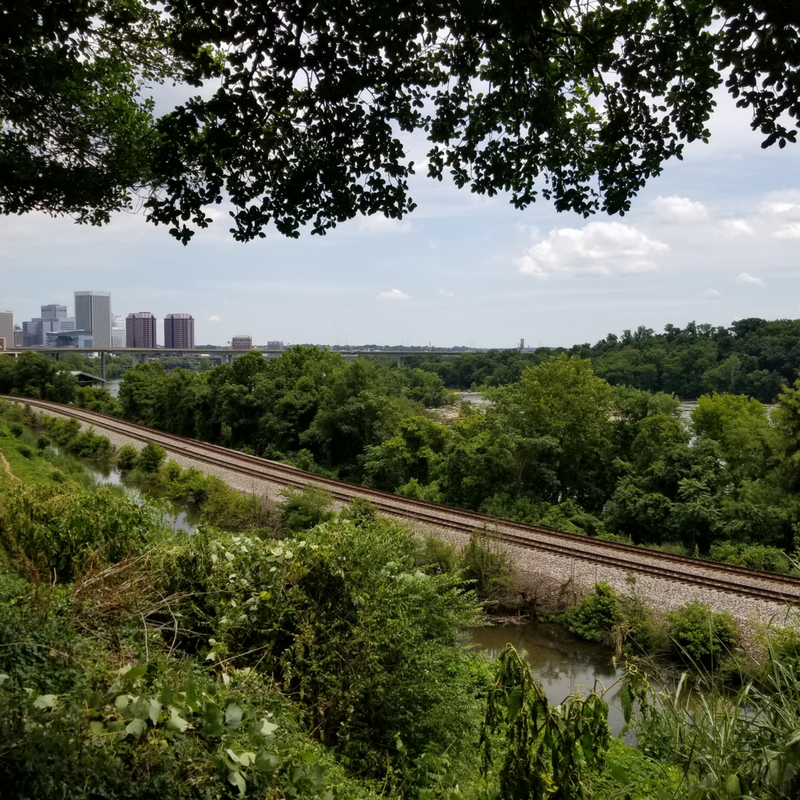 We love summer days and nights in Virginia! The area offers a multitude of outdoor activities, making it a great location to enjoy the warm weather. Below are some of our favorite activities to do throughout the summer in Richmond and its beautiful surrounding areas.
Andrew Smith, President
During the summer my favorite spots in RVA are on a golf course or on the James River.  Richmond boasts many public and private golfing options and has two wonderful first tee courses in Richmond and Chesterfield making golf accessible for almost any player of any level visit: www.thefirstteegreaterrichmond.org.  My favorite courses are The River Course at the Country Club of Virginia.  The River course hosts Dominion Charity Classic, a Senior PGA Tour Event.  To learn more about the tournament or register to volunteer visit: www.volunteers.deccgolf.com. The James River cuts right through the middle of the city and provides a variety of water sport options including kayaking, rafting, tubing and of course my favorite fishing.  Did you know that Richmond is the only city in the US that has a Class V rapid that goes through the city dwelling.  To learn more about the James River, visit www.jamesriverpark.org.
Sarah Prokopchak, Account Executive 
My favorite thing to do in the summer in Richmond is go to the Richmond Flying Squirrels games! It's a fun and different activity to do with friends, and it's always nice to be outside. Whenever friends come into town, I love taking them to the Squirrels games because the tickets are so inexpensive. You can get pictures with Nutzy and Nutasha, eat Squirrely Fries, and watch fireworks. What's more fun than that?! #GoNuts
Alyssa Drewicz, Social Media Coordinator
During the summer my favorite thing to do in Richmond is to take my dogs walking on Belle Isle. Belle Isle is a historic island located on the James River. It features amazing city views, bike and hiking trails, rock climbing, and large flat rocks to enjoy the river on. My dogs love getting to explore the trails throughout the island as well as venture down to the rocks. Even though Richmond can be very hot in the summer months, the James River rapids provide a nice breeze along the shaded paths. After hiking through Belle Isle, I love heading to Sine Irish Pub to enjoy a nice lunch out on their dog-friendly patio.
Anne Powell, Director of Design
During the summer months, I  always enjoy an afternoon shopping at my favorite store "Verdalina" in downtown Richmond, followed by a refreshing beverage on the Rooftop Bar of the Quirk Hotel taking in the incredible views of Richmond's skyline.
Tom Hinkes, Digital Account Executive 
While there are dozens of beautiful outlooks along the James River, the most magnificent lies within Hollywood Cemetery. After descending a mile or so through winding roads, the ranks of ornate tombstones break to reveal an awe-inspiring view of the James river, blanketed by the Richmond city skyline. This sight never grows tiring and whether you're just visiting Richmond for the first time or looking for a nice place for a summer picnic, you can't go wrong with sight-seeing along the banks of the James.
Mary Grace Shelly, Social/Content Intern
The Buttermilk Trail runs about 4 miles along Riverside Drive, and showcases some really interesting pieces of Richmond history along the way. It's winding paths offer some peeks of rustic old railroad tracks and the James River, and ultimately lead you to the walking path that crosses the Boulevard Bridge for some gorgeous views of the city. Not only is the hike beautiful, but it's pretty easy as well, which makes it a great summer day adventure for anyone in the mood to explore Richmond!
Libby Rosebro, Creative/Design Intern
If you ever want to feel fancy and cultured while sipping on a bottle(s) of wine, head over to Virginia Museum of Fine Arts Art & Wine night every Friday from 5pm-8:30pm. There is no more elegant feeling that standing out on their immaculate lawn next to the new sculpture, Chloe, or the Chihuly's Red reeds, sipping on wine out of a plastic cup. Inside, you can grab a table in their Best Cafe and enjoy discounted wine and beer prices as well as delicious food. Once you've sipped and nibbled on all you want to sip and nibble, you can head into the art galleries for an uber-cultured evening. While the standard galleries are free to browse; there is a charge for the special exhibitions. But because the VMFA has so much to offer, you can go many times and always see something different. Whether you're there for the booze, the art or just the atmosphere, you won't be disappointed. 
Roshni Kotla, Project Manager Intern
My favorite summer spot in RVA is the beach off of 42nd street.  This specific rock on the James River acts as the perfect beach during hot summer days.  To get to "the beach off of 42nd street" I usually find parking on 42nd street, take a hike crossing past the buttermilk trail, I cross the rail road and follow it down, and then I take a turn into the river.  I cross the rocks and the current of the river which leads me to a huge sandy rock known as the beach off of 42nd street.  This small island large rock is sandy enough to feel almost like a real beach and the water around it is flowing ever so slightly to allow one to take a swim after sunbathing in the summer sun for an hour or so.  I often see other people around this small secret island on the James bringing their dogs and enjoying the sun.  I love to take my friends to this spot and enjoy a couple drinks on the beach off of 42nd street during the summertime.  
Brian Kao, Digital Analyst Intern
One of my favorite things to do in Williamsburg is to take a drive through the scenic, 23-mile Colonial Parkway in the fall. It's such a therapeutic experience since it's just you, the road, and all the trees displaying beautiful autumn colors; just make sure to not get too carried away and speed.