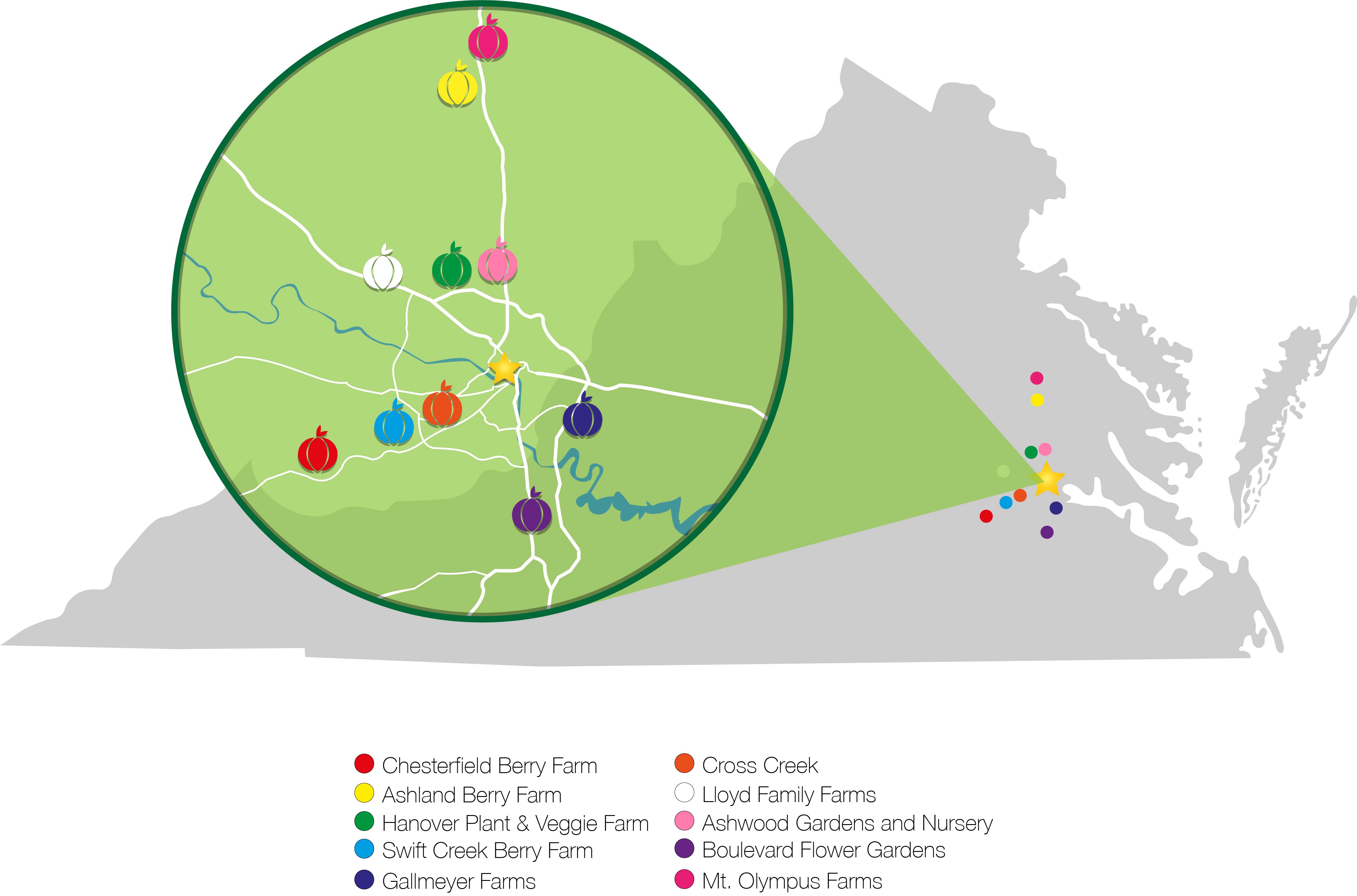 Are you looking to pick the perfect pumpkin this Halloween? Are you looking for a fun fall family outing? Check out our top 10 places for your fall adventures.
From September 23rd to November 5th, Chesterfield Berry Farm is the place to be for family fun! It's open every weekend from 9 am to 5 pm and a guaranteed good time. For $12 you can have access to The 2017 Pirate Ship Corn Maze, Play in the Fun Zone, and the hayride to the pumpkin patch. The berry farm also offers additional passes that include paintball, drink tickets, train rides, and so much more. If you're looking for a farm that your whole family will enjoy, this is it!
What's better than all you can carry pumpkins for $20? Oh yeah, that's right – nothing! That's exactly what you will get at the Ashland Berry Farm. The farm is open weekdays until 6 pm and weekends until 5 pm. Not only is it great for kid activities, but it's also known for its "Terror on the Farm." Featuring four haunts, this is a great place for anyone looking for a good Halloween scare.
Nothing planned for the weekend of October 14th? Head over to the Hanover Vegetable Farm for its Gourds, Goblets and Ghouls Festival. This is the best event for anyone looking for fall fun. The farm will feature wineries, a beer garden, over 40 vendors, live music, a corn maze, hay ride, and pumpkin picking! What could be better? Learn more about the event here.
Looking to spend a relaxing afternoon with your family? Head over to the Swift Creek Berry Farm's Pumpkin Patch. The farm offers an assortment of pumpkins, gourds, field games, a straw maze, and fire pit. It's setting is great for a relaxing afternoon with friends or family. Best of all – there's no admission fee.
Take your family on a low key adventure this October. The Pumpkin Patch at Gallmeyer Farms is a great experience for you and your children. You can find pumpkins from one to over 100 pounds! The farm also offers free activities to keep your kids entertained while you browse through their other fall activities.
Open every Saturday and Sunday throughout October, head over to Cross Creek Nursery & Garden center for their Family Fun Festival. The festival is full of kid-friendly activities. It even features a kid-friendly Haunted Forest Hayride. What more could you ask for?
Lloyd Family Farms opens its Pumpkin Patch doors every Friday, Saturday, and Sunday through October. You can search one of the largest pumpkin patches around for your favorite pumpkin. You can even explore the farm, and your kids will have the opportunity to meet some of the Lloyd Family goats, chickens, and cows!
Looking for a pumpkin patch in Ashland but don't want to deal with extra large crowds? Jump on the hayride to the Ashwood Pumpkin Patch and pick out your favorite pumpkin. After the hayride, be sure to check out the variety of fall flowers and plants for your garden.
Have you tried Pumpkin bowling? Don't miss your chance this year at Boulevard Flower Gardens. The pumpkin patch is open from October 7th through October 29th. Full of kid-friendly activities such as a pumpkin creation station and pony rides, Boulevard Flower Gardens will not disappoint!
Head on down to the Mt. Olympus Pumpkin Patch for some of the biggest pumpkins around! In 2009, their largest pumpkin weighed in at 347 pounds! Be sure to stop by the Ruther Glen Farm to pick the perfect pumpkin for carving this Halloween. And don't forget about their five dollar fill-a-bag produce!
Posted by Alyssa Drewicz, Social Media Coordinator at initiate-it, a digital first, full-service agency located in Richmond, VA.