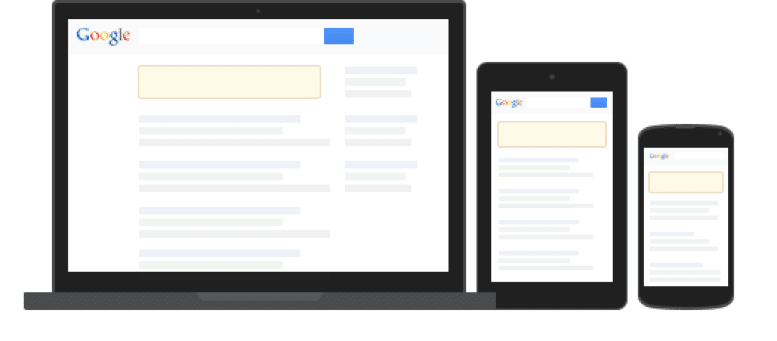 Developing an AdWords Search Campaign can be a challenge. Deciding how much budget to set aside, what keywords to bid on, and which best practices to focus on are just a few of the common questions that people face when considering a search campaign for their business. It can be a bit intimidating, but, if you have the time to dedicate to education and optimization, it can be an extremely powerful marketing channel for your business. If you are just getting started, or even if you've been dabbling with PPC for some time, here is some important insider information into what you need to be looking at to be successful. 
The Building Blocks 
The foundation of any AdWords account are structured by the following 4 main components:
Campaigns – Campaigns are the main "buckets" or "categories" that you want to advertise. For example, a florist may decide to break out their campaign categories by Weddings, Birthdays, Valentine's Day, and Funerals. (Often times, advertisers will follow their website main navigation when determining search campaign buckets.) Budget is set at the campaign level, so think about your business goals and how you want to allocate budget across multiple campaigns. You may want to split it evenly or spend more in one category and less in others.
Ad Groups – Ad Groups fall under campaigns and are more granular. For example: If the campaign category is Weddings, then the Ad Groups under this campaign may include – Bridal Bouquets, Boutonnières, or Ceremony Floral Arrangements. Breaking out Ad Groups this way will let you cater your ad copy to the search query resulting in a more relevant user experience.
Keywords – Keywords will fall under each Ad Group, and are what will trigger your ads to be served. Keep like keywords together and do your research. Use Google's Keyword Planner tool, research highly competitive keywords, and test match types. Start with 10-20 keywords and grow from there. Don't forget common misspellings, and exclusions using negative keywords.
Ads – The lines of text or banner images that appear on the Google.com and/or Google network of partner sites when your ads are triggered. Obviously, the copy you choose here is extremely important. Your ads are what will help you reach new customers and encourage users to learn more your business and product offerings over your competitors.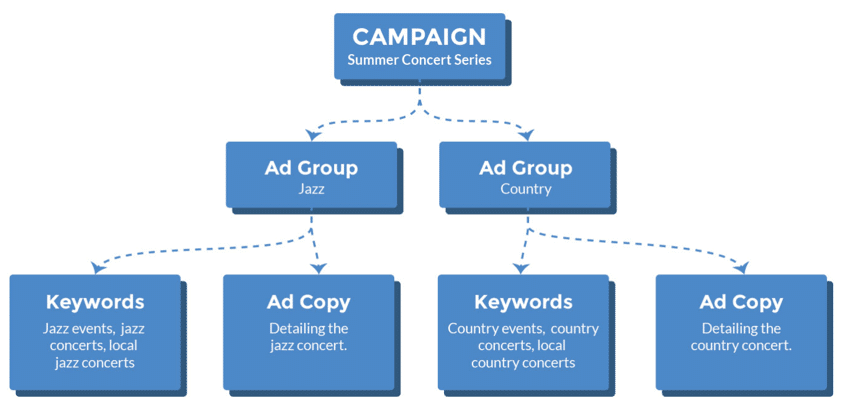 Account Structure & Organization 
The foundation of any successful search campaign is a well-organized and strategically planned account structure. Organization is paramount, and the key to ensuring that relevant ads are served at the right time, to the right people. A few reasons to keep it clean and easy-to-navigate (other than maintaining your sanity) are:
A successful search campaign is powered by constant optimization, so an organized and intuitive structure will allow for smarter optimization and strategic thinking, leading to a more effective campaign and a much better chance of reaching your business goals. A scattered, messy, or poorly thought-out account is virtually impossible to optimize and your results (or lack thereof) will show it.
A well-organized account can lead to higher quality scores from Google. A higher quality score means lower CPC's, improved performance, and better overall results. You want to impress Google, believe me.
For example, our team at initiate-it completely re-worked and organized the search account for a large scale flooring retailer. Doing so increased the efficiency of the account and helped to ensure that specific keyword search's returned relevant ad results on Google.com. Organization, A/B testing, and constant optimization have increased account relevancy which has led to better quality scores, lower CPC's, and a higher conversion rate.
 ·······
After you get organized, you need to optimize. You simply cannot rely on a "set it and forget it" search strategy. It's vastly important to gain a thorough understanding of the AdWords platform if you want to run a successful search campaign. Here's a more detailed look into a few of AdWords most important tools and key features:
Ad Extensions – An absolute must-have to include in all of your text ads. In fact, it's surprising that Ad Extensions are still optional. In a nutshell, extensions are additional snippets of information about your company that you can include along with your main text. When utilized to their full extent, the added information will take up more real estate on the page, improve CTR, Quality Score, and user experience, as well as help you to stand out from the competition. For example, add Sitelink Extensions to direct people to specific product pages on your website, or Location Extensions to show your brick and mortar store locations. Call Extensions will serve your phone number on mobile devices and allow users to tap and call your business directly from the ad.   Example Ad Extensions:


Remarketing List for Search Ads (RLSA) – This is a very powerful feature which should be implemented across all of your AdWords campaigns. RLSA allows you to adjust bids to users who have previously visited your website when they are searching on Google.com, or serve them customized ads. You can create very broad audience lists, like All Site Visitors, as well as more specific groups like Shopping Cart Abandoners, Converters, or people who have visited specific pages on your website. Imagine having the ability to adjust your bid up 200% when your shopping cart abandoners are on Google searching again for the products you offer. On the converse, if your goal is strictly new customer acquisition, you may want to bid down to someone who has recently converted by applying the Converters audience list to your campaigns.

Call-Only Campaigns – Call-Only is a mobile specific campaign type which is intended to drive phone calls to your business. 88% of consumers who search for a local business on a mobile device, call or go to that business within 24 hours (source: Nectafy). The headline of your ad is your phone number, so it makes driving and tracking calls easy. These ads will not direct users to a website. A tap will initiate a phone call. Tip: Don't simply copy existing keywords from other campaigns into your call only campaign. Do your research first. You should add search terms that resonate with people who are beyond the research phase and more likely at a point that they are ready to call.  Example Call-Only Ad: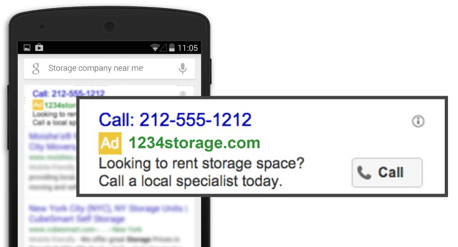 Product Listing Ads (PLA's) – These are the ads you will see along the top of the search page which feature a product image. If you are an online retailer selling physical products, PLA's are must-have. These ads are much more compelling and typically see a higher CTR compared to text only ads because you get a visual example of the product you are looking for, and because they take up a lot of space on the page (especially on mobile). Setting up Product Listing Ads takes a bit of legwork, and may require some help from your IT team, but once it's set you can automate the product feed. It's well worth it.  Example Product Listing Ads: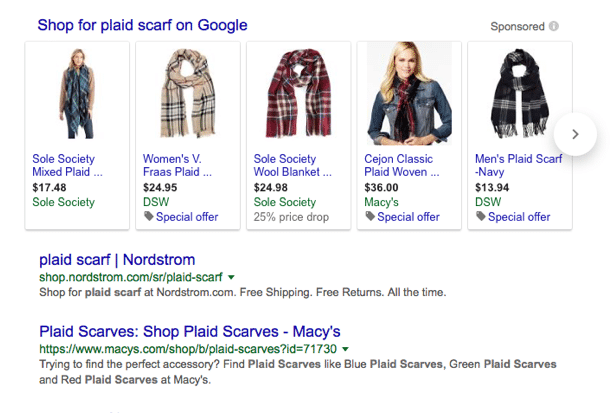 Device Bidding: Smartphone clicks account for nearly 49% off all Google search clicks, becoming the leading device type for all search clicks (source: eMarketer), and this number will only continue to grow. With stats like that, you need to be making Bid Adjustments because, as we all know, behaviors vary across device. This feature allows you to enter a % change up or down to your bids per device. (You can also bid adjust per location as well if you are geo-targeting). By pinpointing where to adjust your bids and making the necessary changes, you'll be using your marketing dollar much more efficiently.

This is by no means an exhaustive list of the cool and powerful tools available to you in the AdWords interface. Other topics to consider are Conversion Tracking, Google Analytics, Bid Strategy, Advertising/Remarketing on the Google Display Network (GDN), Dynamic Ads, Negative Keywords, Search Terms, Match Types, Geo-Targeting, A/B testing, and YouTube Video Campaigns (just to name a few!), phew! 
Feeling overwhelmed? Don't worry, you're not alone.
How to Tell When It's Time to Hire an Agency 
You are concerned that you have too much on your plate: Being tasked with managing your company AdWords account is no easy feat and can take your focus away from other responsibilities. When responsibilities are neglected, it hurts the company.
Agencies specialize in PPC account management: It's what they do all day. AdWords changes constantly and it's the agencies job to stay on top of the trends, new tools, and best practices so that you don't have to.
Agencies can draw on their experience in paid advertising with other clients and use that knowledge for your benefit.
Agencies have direct relationships with account strategists at Google: These direct relationships are priceless. Sure, you can call the 800 number to speak to customer support, but you won't receive proactive account strategy, ideas, and dedicated support.
If you felt at all overwhelmed by reading this blog post.
With over to 6 billion (yes, 6 billion) searches made a day worldwide, you need to consider search advertising as part of your marketing strategy, and make sure to dedicate the time to support the campaign. Questions? Leave a comment, we'd love to discuss!
Posted by, Lisa Rogerson, VP of Digital at initiate-it, a digital first, full-service agency located in Richmond, VA.