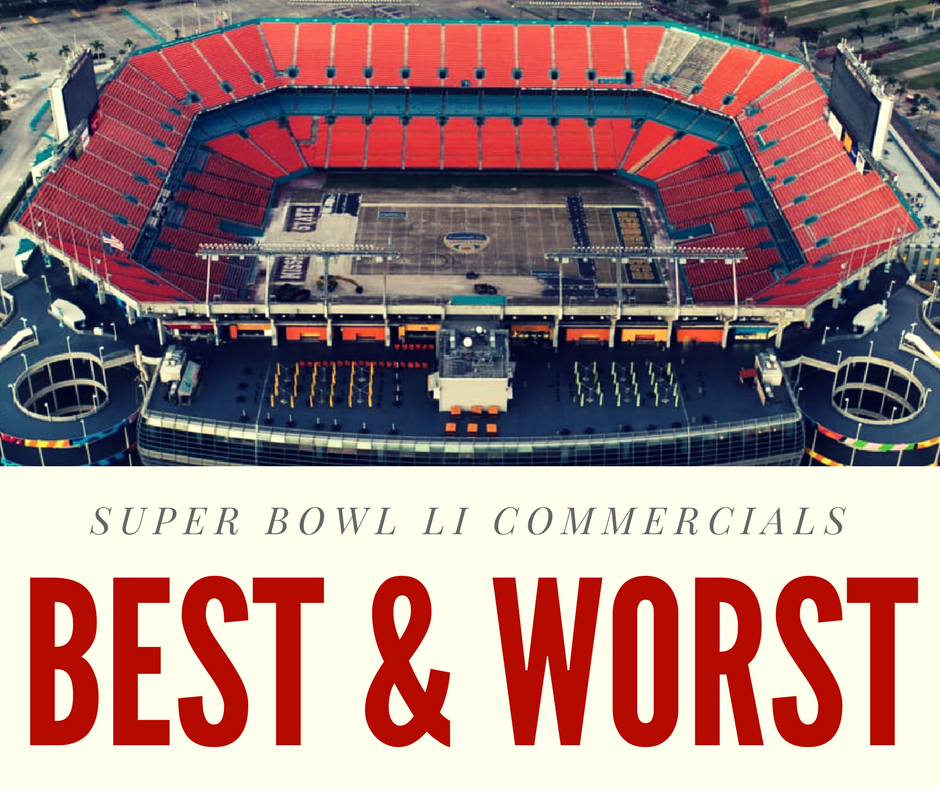 Every Super Bowl Sunday, some viewers tune in for the football game while others watch for the commercials. There are always ads that can be remembered years later as favorites, such as Budweiser's "The Clydesdales Brotherhood" from 2013. Others are remembered in a different light, such as Mountain Dew's "Puppymonkeybaby" from 2016. As we have done in the past, this year we would like to honor those commercial winners and losers. The list below features our favorite and hated Super Bowl LI commercials.
Lisa Rogerson, VP Digital & Operations
Best: 84 Lumber – The Journey Begins Beautifully done ad, amazing story, makes you want to watch it and know who it's from. I will remember 84 lumber and am now more inclined to want to buy from them. Millennials in particular want to know that the brands they are interested in have a point of view and stand for more than what they produce and this shows that.
Expedia – Train  This ad spoke to me. As someone who loves to travel, this ad got me, their target. They tapped into exactly why I like to travel and explore and learn about new cultures. It was awesome.
Audi – Daughter  I Loved the Audi commercial. First, as an Audi driver, I love my Audi. But second, the message it shared about being worried about what to tell your daughter and the fact that Audi believes in equality. Amazing.
Mercedes – Easy Rider  I love the Coen brothers. This commercial was so well done and thoughtful about its target age and target demographic. Brilliant.
Worst: Well, at least there were no puppymonkeybaby commercials this year. But a few I didn't think made the grade.
Wix – Restaurant – Big budget, fun spot, but I totally lost who the brand was. To me, a waste of marketing dollars.
NFL – Super Bowl Baby Legends  – HUH? What? Babies are cute, but I so didn't like this or get it.
Buick – Big Game – A big football player pushing little league kids around and a supermodel – and you don't even really see a car? Just didn't hit the mark for me.
Anne Powell, Director of Design
Best: Michelob Ultra – Our Bar  
Clever tie between the theme from "Cheers" and a gym. Sometimes you gotta go to a place where everybody knows your name and everyone is the same. They are always glad you came. This spot does a great job of supporting the brand message — Lo carbs and Lo calories. After all, if these hardcore fitness maniacs will drink this — it must be Lo carb and Lo Calories. This ad reaches a totally different audience than other beer commercials.
Worst: Mr. Clean – Cleaner of Your Dreams 
Slightly disturbing to see an old brand turned sexual, although the ending brought it back home. You gotta love a man who cleans.
Melissa Mullen, Strategic Account Manager
Starting off an ad with Christopher Walken softly speaking will make anyone stop what they are doing and listen. It only took two sentences for every 90's girl around the world to look at each other with a puzzled, but excited face. Naturally, when Justin Timberlake was in shot, everything 'clicked'. This commercial achieved three things: 1.) It taught the world how to correctly pronounce 'Bai' 2.) It made people think AND laugh 3.) And it gave the world fuzzy 90's feelings again.
Worst: Go Daddy – The Internet Wants You  
Go Daddy must have thought they had all the right ingredients to make a memorable Superbowl ad – "You've got mail", controversial blue and gold dresses, cats on Roombas –  but it lacked originality. Everyone knows what the internet is and has a pretty good idea on what it offers. Rehashing popular memes/videos does not make you an internet sensation – it makes you look like your creative team didn't even try. This isn't anything new though. Go Daddy's Superbowl commercials have seemingly always flopped due to sexism, homophobias, and animal cruelty claims over the years. After that record, Go Daddy did not have a Superbowl 2016 ad. I guess this year's ad is proof that it's hard to win after sitting on the bench.
Sarah Prokopchak, Jr. Account Executive
My favorite Super Bowl commercial this year was the Michelin ad, "I Need You." The ad was hard-hitting, showing that Michelin tires will get you where you need to be during moments that matter. It was simple, to the point, and as a viewer I was immediately captured and understood the overall goal and objective of the commercial. I thought this ad broke the clutter even more than some of the ads with Justin Beiber and Melissa McCarthy, for example. I wasn't distracted by my own thoughts and focused on a celebrity thinking, "Wow, Justin Beiber looks good… wait, what is this commercial for?" The Michelin ad was not over-the-top, but tastefully done, and the message will resonate.
Worst: T-Mobile – #NFSWireless
This was a bizarre concept. I didn't really know what to think after seeing the spot. I guess there is such a thing as "too far," and I think this was it. The message just didn't resonate with me.
Kara Whitely, Digital Analyst
Not only was this commercial visually beautiful, it spoke to a very important, attention grabbing social issue we face today. The voice over of a father speaking lovingly about his daughter leads you into a story that you want to follow. As you watch the determined young girl racing against her peers, you instantly begin to cheer her on, leading you to the hopeful outcome of the story. I think Audi sent an important message about their brand and culture by speaking to all Americans here, empowering each one of us to think about gender equality. To remind us that we have a responsibility to teach our young girls AND boys that with determination and hard work, they can accomplish great things, regardless of their gender.
Although slightly intriguing at first, I was immediately turned off by the cheesy mechanical kangaroo in sunglasses who apparently is the life of the party, but was overshadowed by the main character, and bikinis (come on!). Maybe this commercial was geared to a younger crowd prepping for their next frat party? I will most definitely skip past Yellow Tail on my next visit to the wine isle.
Alyssa Drewicz, Social Media Coordinator
This was by far my favorite commercial of the night. Kia did a great job in targeting environmentally conscientious individuals. It brought humor to what many people believe to be a serious topic while focusing on the benefits the Kia Crossover provides, such as its heated and ventilated seats. The whole room was laughing from Melissa McCarthy's crazy antics and her representation of the commercial's catch line "It may be hard to be an eco-warrior but it's easy to drive like one." Instead of fighting to extremes for every cause you can help the environment by driving this eco-friendly car. Kia definitely delivered its message through a fun and memorable ad spot.
Worst: 84 Lumber – The Journey Begins
This was the worst commercial of the night for me. To me, this ad's message was more focused on politics than on what the company's products and services are. People watch the Super Bowl as an escape from the real world. They do not want to be reminded of the negativity consistently seen throughout each day. Instead of staying away from politics, 84 Lumber focused on the political controversy our country is currently facing. Many people would rather see cute or humorous ads played during the game instead of being brought back to the "real world". In addition, I believe the ad was too long, as I proceeded to zone out after the first 30 seconds.