I'll admit, I love a new gadget or toy. I like testing out the newest "thing," which might be why I am so interested in social media marketing—the landscape is constantly changing or it could just be my ADD. Periscope is one of those new toys, I mean…platforms I've been watching.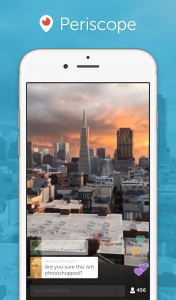 Periscope is a newish platform where you can stream live video that integrates with Twitter, alerting your following when you are live. It allows users to produce video and stream to anyone. In a Snapchat-like way, the videos are short lived, but they do stay around for 24 hours. You can save them and make them available in other channels but they aren't stored in Periscope.
It is fun—you all of the sudden become a reporter for your own life. For me, the problem lies in that my life is rather boring. I like it that way. However, jumping into someone else's life, and being able to see events from around the world first hand is incredible. I recently used it on a cloudy, rainy night to watch the latest eclipse being recorded out of New York where it was much clearer than Richmond, Virginia. I was able to replay it for my son the next morning. Need tips on using Periscope? Here's a great post from hubspot.
I've noticed thought leaders sharing tips and advice. Since you are able to comment live, it provides a way to have a "conversation" with followers. On the stranger side, I've seen what I'd guess are lonely people bringing up controversial topics to get folks to join in. To each his own.
As a marketer, my wheels immediately start turning on how I could use this as a brand engagement tool. We're all hearing and seeing that video is huge. For example, videos get 135% more reach on Facebook than any other type of post. Other platforms are giving preference to video as well.
I've seen some big brands trying Periscope out and experimenting. Your brand has to be comfortable with the authenticity and human nature of a live feed but think of the applications….
Behind the scenes (at a runway show)
Up-front access (at the Ellen Show)
Product training (Benefit Beauty)
"Live blogging" (Guy Kawaski)
Inside look (Orbitz)
Product innovation or new product (Target showed its new line)
Design thinking feedback (haven't seen it yet, but why not?)
We are all looking for that emotional connection with consumers to build loyalty for our brand. Periscope can provide an outlet for that. I think it will be interesting to see how brands use it. Have you seen any unique ideas?
Posted by Lisa Rogerson, the newest member of initiate-it's team. We're initiate-it, a full-service agency in Richmond, Virginia. We know there's only one way to make the future better: Find a better way. Everyday, in everything we do.