Marketing is essential for business growth. A thriving business needs experienced marketers to coordinate and execute a comprehensive growth plan. In the past, companies hired individual marketers, or a whole department, to meet their marketing needs. In this rapidly evolving, post-covid era, new industry trends prove to be less risky and more efficient. With companies trying to stay as lean as possible today to gain a competitive edge, outsourcing to an agency is the best option.
The Costs of a Staff Marketer
The salary of a qualified marketing professional can be astronomical. When you hire a marketer to be a part of your staff, you must consider the cost of the salary and additional benefits of the individual. Today, the average salary of a marketing manager is anywhere from $49K to $120K. You may need more than one person working on your marketing team to get the success you're hoping to find. When marketing professionals work together to get campaigns rolling, there is often a better result, thanks to the many ideas coming in. They can also handle more extensive campaigns because there are more of them to do the work. Each would need a significant salary if hired to be on staff.
Salaries aren't the only cost of hiring marketers. There are also various benefits that employees expect as part of their employment package. You can expect to pay a little under half their salary in benefits when you keep someone on staff, and this is without the perks anticipated of someone highly successful in the field. Of the total salary and benefits package, the salary is about 69%, and benefits are about 31%. This increases the overall business liability to an average of $65K to $155K per employee – a daunting figure for small to medium-sized companies.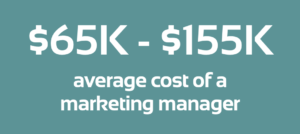 The average pay in taxes for a single employee is a little more than 15% of their taxable income. This can be a significant cost that adds up when you calculate the cost of all employees. In today's competitive labor market, offering one or more perks is table stakes when trying to attract a dedicated professional. From leased cars to free lunches and gym memberships, the cost can be a significant burden on the company. An on-staff marketer needs a desk, a computer, and an office space. It's generally necessary they have reasonable room in common areas. A crowded office is frustrating, and new hires may mean moving to a larger office, especially if you are hiring an entire marketing team.
You might also decide to offer a signing bonus to beat out the competition for good marketers. Some companies also match 401K contributions and offer company stock in addition to a salary, so budgeting for holidays and other bonuses should also be taken into consideration. When you hire a marketing agency, you're paying for results, not new hires. Instead of paying for salaries, benefits, taxes, and perks, you'll pay a flat rate for access to an experienced team of marketers. Hiring an agency costs significantly less long term and can help your business achieve exponentially more intellectual property (IP) and capability.
Rather than Risking New Hires, Invest in Results.
In addition to hiring an in-house marketer, it's important to keep in mind the additional costs behind marketing campaigns. The rest of what you pay an agency is for their expertise in developing, executing, and optimizing your campaigns. They will use testing strategies to ensure that the procedures used are getting optimal results. From there, they can make the necessary changes to maximize your return on investment. You're paying for results, and a marketing agency knows how to get them for their clients. With a marketing agency at your disposal, you get experienced professionals with a wide range of marketing strategies. One in-house hire can't offer the same, and most small to mid-sized businesses don't have the budget to hire a complete in-house marketing department.
An agency has a team of professionals who collaborate and handle marketing campaigns of various sizes. Every team member provides value to the campaigns. When more people are involved, nothing is missed in the pursuit of the most effective marketing campaign possible, no matter the size. Training an in-house hire while they transition to the company is valuable time that your company may not want to lose. When you hire a marketing agency, every member of the team has already been trained and is ready to get to work.