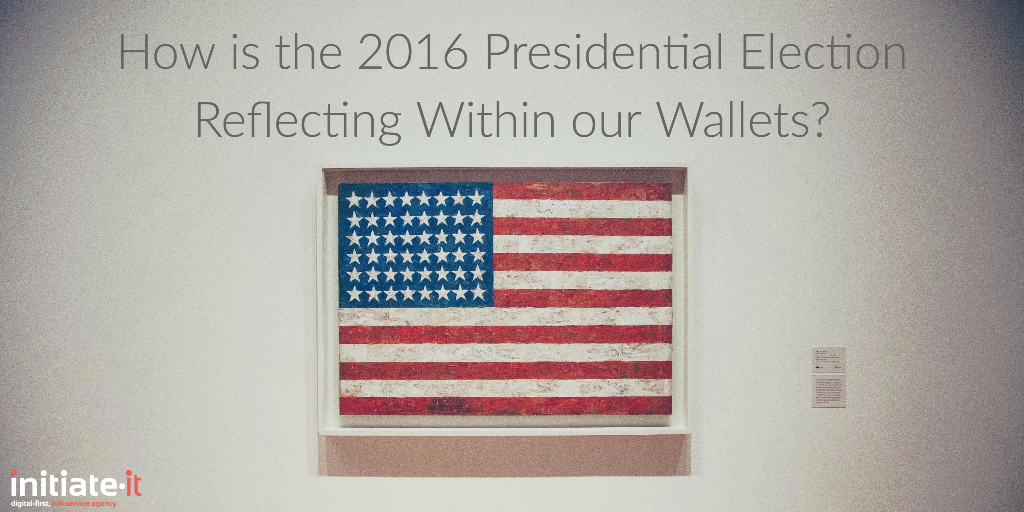 The world is undeniably in a different place now than it was in 2012. With recent outbreaks of rioting, terrorism seeping into our cities, and eye-opening displays of police brutality, fear seems to be plaguing most of the minds of the public. Especially in the case of such a divided election, we are highly impressionable, and searching for a leader to rise up and make a change. Along with these fears, there's a specific, and slightly more trivial fear that creeps up during election season that is specific to us– 'the advertisers'
As advertisers, we've become hard-wired to resent the election season. This is simply based on the exclusivity of the television advertising market for the duration of the season, and the unprecedented rise in pricing we plan for every four years. During this period, we tend to focus our minds and energy on finding strategic ways to invest in more financially sound endeavors, for ours and our client's sake. But no matter what, we know the election looms over us.
While TV is still the leading forum for presidential candidates to place their advertising dollars, the numbers have absolutely dropped this year. We aren't being stepped over in the market at such a high rate this year. Because of this, our wallets are not reflecting the usual pain we feel during election season. Why? Why is 2016 different?
We think, well we know, that it has everything to do with digital marketing. With an exponential rise in digital within the past four years and the pertinent use of social media for branding, to survive, we're all being forced to re-think the way we advertise, not excluding even the Presidential candidates themselves. The difference (and advantage) of digital marketing when being compared to TV, is the ability to hone in on specific markets, as specific as our heart's desire. Beyond the usual suspects such as age, race, and household income, digital is able to think deeper. What is your demographic passionate about? Where do they hang out? What do they like to eat? This way of thinking is a game-changer for candidates who are now able to cater their advertising in incredible ways, and play-up their stances on specific issues to specific markets, in ways past candidates could only have dreamed. Do you get every candidate's email newsletter? Me too. Did you sign up for all of them? Me neither. Email lists are also becoming easier to compile with each approaching year.
Let's put it into perspective. During the 2012 election, 64.0% of ad dollars were put  towards TV advertising, comparatively, this year only 59.4% will be set forth. Not a large drop, but a clear drop none-the-less. In 2012 1.8% of ad dollars were put towards digital marketing, while this year the number jumped to 9.8%. According to the Wall Street Journal, in June 2016, Trump spent $1.6 Million on digital ads, while Hillary spent a mere $353,000- creating a $1,247,000 gap between the two candidates spending interests. Trump is clearly pushing digital, with a clear interest in social media. USA Today says Trump is the first candidate to ever buy a hashtag (at 6 figures I might add) for a full day. For the period of July 14- Nov. 7, Trump has booked $654,455 in TV and Radio vs the $111 Million booked by Hillary. It's interesting to see the large differences in ad forum interest between the two candidates. Trump's uncensored nature is channeled directly into his social media presence which has been a talking point throughout pop culture, while Hillary's more sensitive, emotional approach has gone viral as well (take this recent TV ad, for example).
As for the candidate's children, they've all taken on different roles in assisting their parents' potential run in office. Ivanka Trump, one of the beautiful daughters of Donald Trump, seems to be very individualistic when it comes to her father's running. Sifting through her positive, motivating twitter feed, equipped with over 2 million followers, there is little to no talk of her father. Instead, she focuses her energy on promoting her new book, and posting women-centered articles ranging from health, to fashion, to being an entrepreneur. Chelsea Clinton, the bright-smiled daughter of Hillary Clinton, seems to be very promotional of her mother. While still maintaining a positive message, Chelsea dedicates most of her twitter feed to her mother, often participating in the use of the viral hashtag, #ImWithHer. Eric Trump, the son of Donald, seems to emulate his father's strategy behind social media. Veering away from his sister's positivity, he posts adamantly of Hillary's controversies, while also heavily promoting his father. They all have their different strategies of supporting their parents- even pushing them further towards their goals.
So what does this ultimately mean for us? We don't need to worry as much this season about as exclusive of a TV market, but with more of a focus on digital, should we, as digital marketers be worried? It depends. When it comes to things like promotional tweets, or Trump buying a hashtag for the day, we aren't directly affected. We're still able to put up our ads and boost our posts without as many exclusive market times or cost surges. The attention from TV to digital this election is at such a sweet spot- we're able to live our lives as advertisers normally.
Looking into the future, the digital ad percentages are sure to continue to rise, as TV is sure to drop, which will make digital a nosier, messier, and more complicated arena in 2020. Ultimately, the 2016 election has been good to us, we can do our thing more than we have been able to in the past. While 2020 may not be projected to be as kind, as resilient as we're programmed to be in an ever-changing world, these things don't stop us.
Posted by Andrew Smith, President of initiate-it, a digital first, full-service agency in Richmond, Virginia. Fresh out of Radford University with a degree in communications/PR, he was quickly hired as a media planner for Circuit City. Next thing anybody knew, he was leading the media efforts for the company's South and West Coast markets and its affiliate CarMax. Then it was off to The Martin Agency as media planner for Kellogg's, Seiko, TV Land, and Alltel. His transition into account management came when he joined The Bergman Group in Richmond, quickly taking the lead in the agency's efforts for Capital One, Drive Time, Sandler Training, CapTech Ventures, Sports Management International, IMG, Greenway Medical, and Sheltering Arms Physical Rehabilitation Centers.